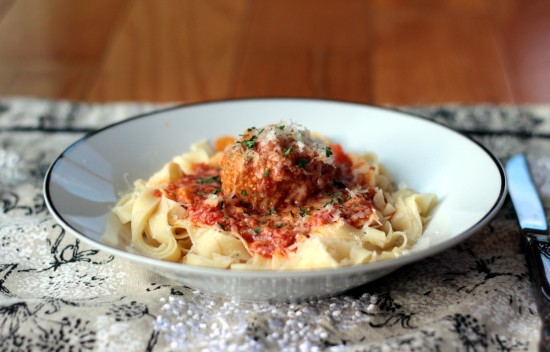 Between the tomatoes that we grew in the garden and the ones that we bought from a local farm for canning, we ended up with quite a few jars of crushed, pureed and whole tomatoes. Since we were going to be home all day I decided to make a spaghetti sauce, turkey meatballs and homemade pasta for dinner tonight.
I started with a small red onion that came out of the garden (garlic from the store, we are planning on planting some of that this fall for harvest next year), dried thyme and olive oil. Added a jar of whole tomatoes, a jar and a half of crushed and a jar of puree. Finally two cups of chicken stock and we have begun our journey toward slow cooked delicious pasta goodness. All told, the sauce cooked for about 8 hours. I had to add some water here and there to keep things from getting too thick and we certainly weren't ready for pasta and sauce at 1pm.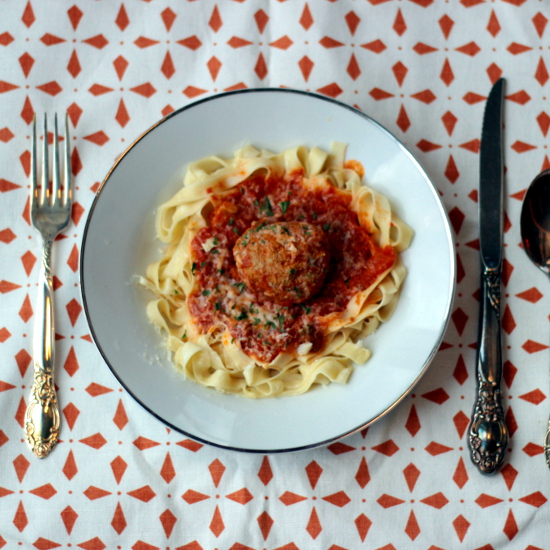 I have big plans for this sauce: pasta and meatballs tonight, turkey pesto meatball subs on homemade baguettes for lunch tomorrow, homemade lasagne and finally pizza on Friday. I couldn't help but congratulate myself after this one. This was truly the best spaghetti sauce recipe that I have had. And since I winged it, it wasn't really a recipe…..until now!
Homemade spaghetti sauce
2014-09-01 18:51:34
Ingredients
2 tbsp olive oil
8 cloves garlic crushed
1 small red onion diced fine
1/2 tsp dried thyme
1 pint whole tomatoes in liquid
1-1/2 quarts crushed tomatoes
1 quart tomato puree
2 cups chicken stock
1/4 tsp red pepper flake
1 green bell pepper, diced
Salt and pepper to taste
Instructions
Heat oil and saute garlic and onion with the dried thyme.
Add all of the tomatoes, stock, pepper flake and green pepper.
Cook for at least 4 hours or until it reaches the consistency that you are looking for.
Check the seasoning toward the end and add salt and pepper to taste.
Optionally, you can add in a recipe of turkey pesto meatballs 40 minutes before you will be serving the sauce.
Only From Scratch https://www.onlyfromscratch.com/