After a wonderful, albeit rainy at times, summer it was time to start thinking about getting back to the real world. Kids back in school and all of the after-school and sports activities that come with were upon us. With that we wanted to have one last full-on BBQ before all of that craziness started.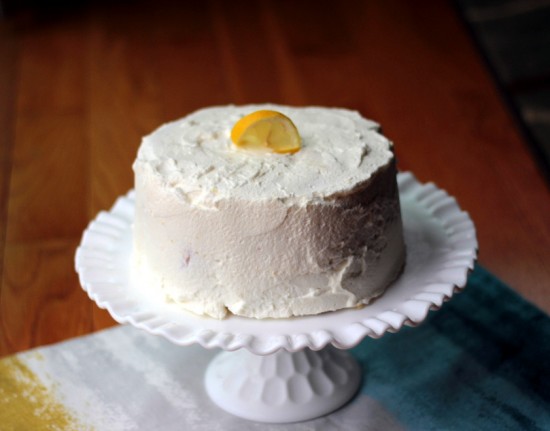 The menu was set, BBQ pork ribs, baked potatoes and corn on the cob. Perfect. But, what to have for dessert? I have always been a big fan of a lemon meringue pie, but I wasn't feeling that. Thinking of the pie reminded me of the lemon chiffon cake that Kelly and I had while we were on a little getaway over the summer. That one had blueberries in it, I am not a huge fan of blueberries, so I was looking for a recipe without the berries. That cake had three layers with a lemon curd between them, that I was a fan of and it was required for any recipe that we were going to try. I checked out a dozen or so recipes and finally found one that looked to fit criteria. Lemon was everywhere, from the cake batter,to the frosting and of course the curd between the layers. The recipe said that you could buy the curd or make your own, which way do you think I went?
The finished product was a hit. Just enough lemon flavor without going over the top. The frosting had a subtle lemon flavor from the lemon curd that was folded into it and the just-dense-enough cake handled the curd between the layers without becoming soggy. I am calling this one a success.
Homemade lemon curd
2014-09-01 16:34:34
Ingredients
1-1/2 cup sugar
zest of three lemons
1 stick butter at room temperature
4 eggs
1/2 cup lemon juice
pinch of kosher salt
Instructions
Add sugar and zest of lemons into food processor.
Pulse until mixed thoroughly
Cream the lemon/sugar and butter with a mixer
Add eggs one at a time and mix until all four are mixed in
Add lemon juice and salt and mix.
Transfer mixture to a saucepan and cook over low head until the curd is thickened, about 10 minutes.
Remove from heat and allow to cool. Refrigerate unused curd for later use.
Only From Scratch https://www.onlyfromscratch.com/
Lemon chiffon cake
2014-09-01 16:52:20
Cake ingredients
1-3/4 cups cake flour
1 tbsp baking powder
1 tsp salt
1-1/2 cups granulated sugar, divided
1/2 cup vegetable oil
6 large eggs, separated
3/4 cup cold water
2 tsp lemon juice
2 tsp lemon zest
1/2 tsp cream of tarter
Filling
2/3 cup lemon curd (recipe above)
Frosting Ingredients
1-1/2 cups whipping cream
3 tbsp granulated sugar
3 tbsp of lemon curd
Cake
Preheat oven to 350 degrees
Separate the eggs. Reserve whites for later use.
Mix egg yolks, oil, lemon juice, zest and water.
In a separate bowl, mix flour, baking powder, salt and 1 cup sugar.
Add wet ingredients into dry ingredients and mix until just combined.
Add egg whites and cream of tarter to mixing bowl and whip until foamy. Gradually add the remaining 1/2 cup sugar and whip until stiff peaks form.
Gently fold egg white mixture into the remaining batter.
Separate batter into three parchment lined 8 inch cake pans.
Bake for 50-60 minutes or until cake springs back when pressed.
Allow to cool in the pans.
While cakes are cooling, prepare the frosting.
Frosting
Mix whipping cream with sugar and beat until stiff peaks form.
Gently fold 3 tbsp of lemon curd into whipped cream.
Refrigerate frosting until cake is cooled
Assemble cakes
Remove cakes from the pans and be sure to remove parchment paper from them.
Stack first cake on a cake pan and top with 1/3 cup of lemon curd.
Add second cake and top with 1/3 cup lemon curd and place final cake on top.
Frost cake and refrigerate until needed.
Once all layers are in place,
Only From Scratch https://www.onlyfromscratch.com/