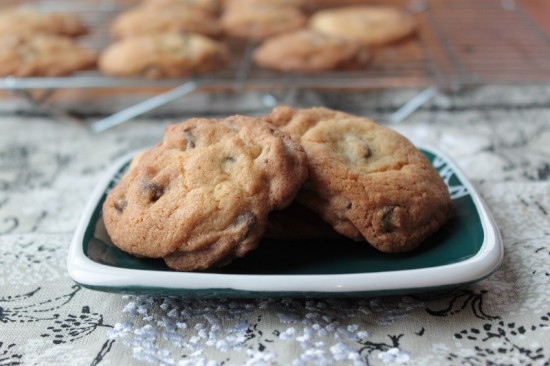 Making everything from scratch means no more buying Oreo cookies, boxed brownies or grocery store "bakery" cupcakes. Tasty treats were in low supply this weekend and with another school week on the way I was in some serious need of a sweet treat for my children's lunches. My plan was to make chocolate chip cookies. No trickery here. These are straight up Tollhouse chocolate chip cookies without any bells and whistles.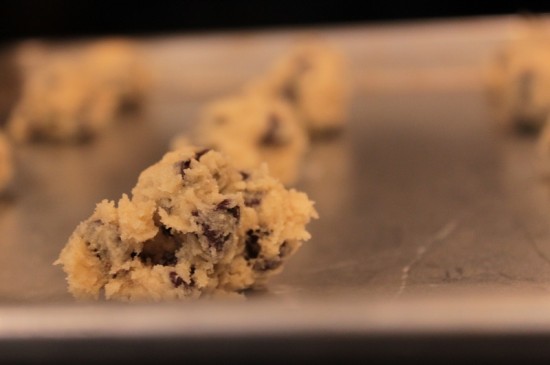 I had not planned to blog about the experience, but when I went to my usual recipe sites just to see what's out there I was shocked to find information about basic chocolate chip cookies in short supply. In addition, the steady stream of rejections from Foodgawker and Tastespotting had left me wanting to play around with the camera while we had some actual daylight, which is also in short supply lately!
I actually had a lot of fun playing around with the camera and having natural light really helped out with the quality of the images. It was a challenge to try to shoot these as my toddler kept grabbing at the finished product. However, the quality of these images has probably cured me of reaching for the iPhone while I'm cooking. (Reviewers at Foodgawker rejoice!)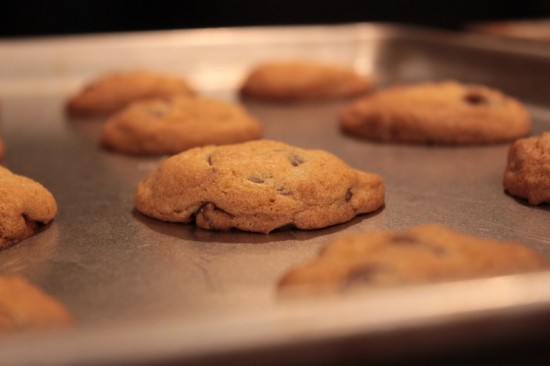 I have been making this recipe since I was a teenager and it wasn't until I was thirty years old that I discovered the power of using a stand mixer. In the past, I used to either mix the batter with a hand mixer, or I would go after these bad boys with my muscles and a wooden spoon. Good workout but OMG it took forever. If you've got a stand mixer, use it! If you don't have one, get one and you'll never regret it.
Now I have eaten a lot of cookies and never, ever have I enjoyed a prepackaged, store bought, bakery item, or cookies made by others as much as my own. Perhaps I'm just gifted, but if you follow the recipe and don't cook the living heck out of these, they will be good.
Chocolate Chip Cookies
2014-01-18 15:19:41
Ingredients
2 1/4 cups flour
1 tsp baking soda
1 tsp salt
1 cup butter, softened
3/4 cup granulated sugar
3/4 cup brown sugar
1 tsp vanilla extract
2 large eggs
2 cups semi-sweet chocolate morsels
Instructions
Beat butter, granulated sugar, brown sugar and vanilla in a large bowl with the mixer. Add eggs and mix well in between each addition.
In a separate bowl, combine flour, baking soda and salt.
Gradually add the flour mixture to the butter and sugar mixture.
Once combined well, add chocolate chips and mix by hand.
Drop by rounded tablespoons onto an ungreased cookie sheet.
Bake at 375 degrees for approximately 9 minutes or until lightly brown.
Cool for two minutes on the cookie sheet and transfer to wire rack to cool completely.
Adapted from Tollhouse
Adapted from Tollhouse
Only From Scratch https://www.onlyfromscratch.com/