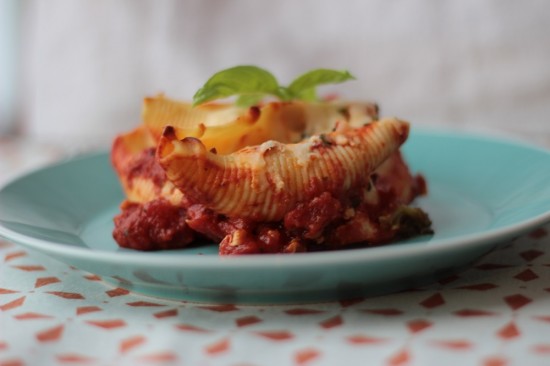 I am a big fan of meals that make large amounts that can be used for left over night. Stuffed shells always goes over well in our household and isn't too difficult to prepare. Ricotta cheese isn't my favorite so it's taken me awhile to find a cheese ratio that works well. This makes a great Sunday meal because you can make it ahead and simply pop it into the oven later. Serve it with a garden salad and fresh bread and clean up will be quick and painless. For variety, I will sometimes add ground sausage to the cheese mixture. For extra color and vegetables, chopped spinach could also be added to add texture, fiber and vitamins!
Stuffed Shells
2014-03-02 20:23:17
Ingredients
1 box jumbo stuffed shells
15 ounces Ricotta cheese
2 eggs, beaten
2 cups mozzarella/provolone. shredded
3/4 cup Parmesan cheese
1 26 ounce Jar Pasta Sauce (homemade or your favorite brand)
1 teaspoon kosher salt
1 teaspoon pepper
1 teaspoon garlic powder
1/2 teaspoon oregano
Instructions
In a large pot, bring water to a boil and cook the shells in salted water per the package instructions. Set aside when done and allow to cool.
In a large bowl, combine eggs and ricotta cheese until well combined. Add seasonings and mix well. Add 1 and 1/2 cups of shredded cheese and 1/2 cup of Parmesan cheese and mix well.
If you prefer meat in your shells you could now add 1/2 pound of cooked ground beef or ground sausage to the cheese mixture.
Prepare a 9 x 13 inch baking dish by spraying with nonstick spray. Cover the bottom of the pan with a thin layer of sauce.
Stuff the shells with cheese mixture and line them up in the dish (I always have extra pasta).
Pour the rest of your sauce over the shells.
Top with the remaining cheese, sprinkle a little garlic powder and dried parsley on top.
Cover with aluminum foil. Bake at 350 degrees for 30 minutes. Remove the foil and then cook an additional 15 minutes.
Only From Scratch https://www.onlyfromscratch.com/