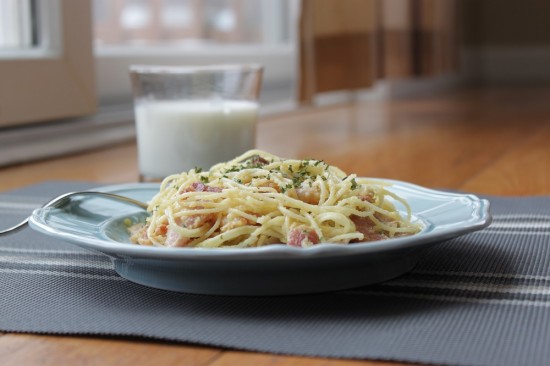 Illness struck our house this week. As the virus finished its sweep through the household what better way to tempt fate and see what you're really made of than to challenge your stomach with a rich, creamy dinner full of cheese, eggs and bacon than with a delicious pasta carbonara recipe? Go big or go home! We went for it knowing that this meal is so good there's no way our bodies could reject it!
I personally had not been a fan of carbonara prior to finding this recipe. Prior attempts had left us with a scrambled egg mess covered in too much parmesan cheese. This meal has just the right amount of bacon, cheese and, as long as your pan isn't screaming hot, you shouldn't end up with a scrambled egg mess.
For the family on the go, this meal can be done in about 20 minutes on a weeknight if you plan ahead and precook your bacon. If you keep coming back to Only From Scratch, you'll learn that I prefer to bake the bacon in the oven to avoid a stove top assault by bacon grease. And if you're like me and you prefer a little more protein in your meal, this pasta recipe is excellent with added chicken.
The good news is that everyone gobbled this up. Everyone kept it down. The viruses have left the premises! AND it photographed better than I expected!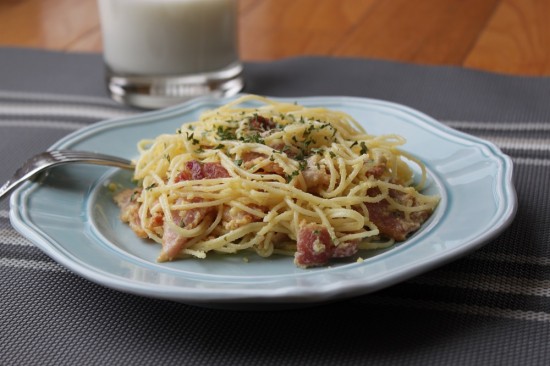 Pasta Carbonara
2014-01-31 21:53:06
Ingredients
8 oz angel hair pasta
1 package thick cut applewood bacon, cooked and crumbled
3 cloves garlic, minced
4 egg yolks
1¼ cup whipping cream
½ cup grated parmesan, plus more for topping
¼ cup fresh parsley, chopped
¼ teaspoon pepper
¼ teaspoon nutmeg
Salt to taste
Instructions
Preheat oven to 400 degrees F.
Line a baking sheet with aluminum foil and place bacon, in strips, on top.
Cook at 400 degrees until done (about 15 minutes). Watch it closely.
Bring a pot of salted water to a boil. Cook pasta according to package directions.
While pasta cooks, mix together the egg yolks, cream, parmesan, parsley, pepper and nutmeg in a medium sized bowl.
In a large skillet, turn heat to medium add cooked, crumbled bacon and a small amount of bacon grease.
Add garlic and cook until fragrant.
Remove from heat and allow to cool slightly.
Add pasta directly to the bacon.
Stir in the cream sauce and allow mixture to thicken.
Add salt and pepper to taste.
Serve immediately and top with additional cheese and parsley if desired.
Adapted from A Dash of Cinnamon
Only From Scratch https://www.onlyfromscratch.com/