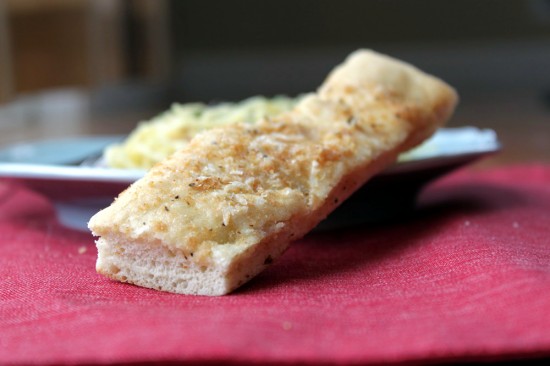 We like bread, A LOT! Meals are just better with bread and for certain meals, it's practically a sin not to include bread with it. In our house, soups, stews and pasta dishes require some sort of baked good. Unfortunately fresh bread on a week night isn't always easy to pull off, unless you opt for this quick and easy breadstick recipe.
These breadsticks took just a few minutes to pull together and only about 15 minutes to bake. From start to finish these were ready to go in less than 40 minutes. Active prep was actually much less than 40 minutes which meant that I could cook our pasta carbonara while these were mixing, rising and baking.
One of my guilty pleasures are Pizza Hut breadsticks. With this topping mixture these come close without all of the grease, calories or the dingy darkness of sitting through a meal at that establishment. So next time you have a craving for those breadsticks (and we know many of you will) whip these up instead, you won't be sorry!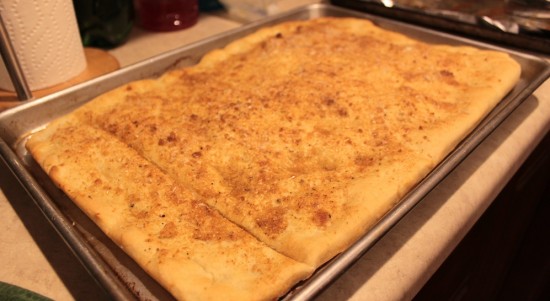 Quick and Easy Breadsticks
2014-02-01 09:33:55
Ingredients
1 1/2 cup warm water
2 Tablespoons sugar
1 Tablespoon yeast
1/2 teaspoon salt
4 cups flour
1/4 cups butter
1/2 cup grated Parmesan cheese
Topping
1/4 cup Parmesan cheese
1 Tablespoon garlic powder
1 teaspoon onion powder
1 teaspoon oregano
1/2 teaspoon salt
Instructions
In a mixing cup combine warm water, yeast and sugar. Allow to proof until foamy, about 5 minutes.
In the stand mixer combine yeast mixture with salt and add flour one cup at a time. Add the last cup of flour slowly and mix until dough pulls away from the sides of the bowl.
Mix on low speed with the stand mixer, fitted with the dough hook, for 5 minutes.
Allow to rest for 5 minutes.
Pour half of the melted butter onto a heavy cookie sheet.
Spread the dough out until it reaches all corners of the sheet.
Brush the top with the rest of the melted butter.
Combine the topping seasonings in a small bowl and sprinkle on top of the dough.
Bake at 350 degrees F for 15-18 minutes, or until golden brown.
Allow to cool slightly and then slice into strips and serve.
Adapted from Jamie Cooks it Up
Only From Scratch https://www.onlyfromscratch.com/