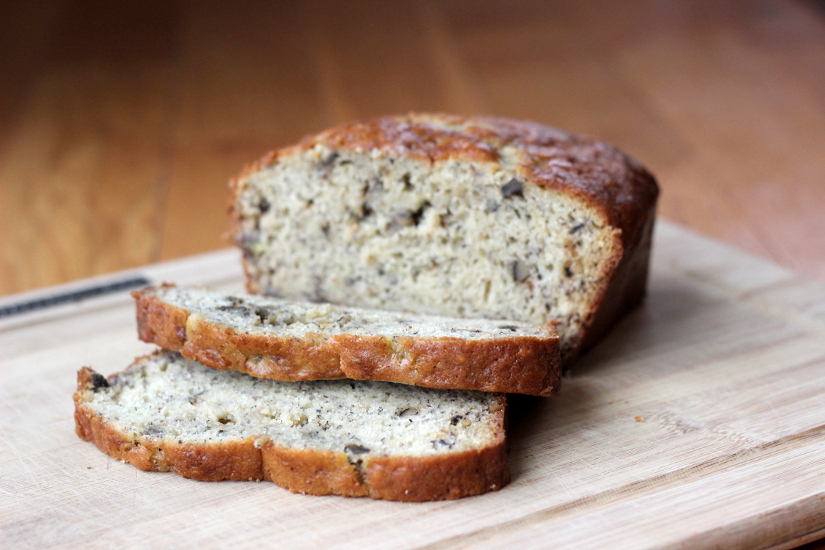 I am officially old.  I asked for silicone bread pans for Christmas and I squealed like a little girl when I opened them.  These babies needed a test run, so imagine my delight when I spied three past-their-prime bananas that desperately needed to be dealt with.  Bread pans + Bananas = Delicious banana nut bread!
Many people like to use the box mixes for quick breads but making it from scratch really is not that much more messy or time consuming.  Make this recipe and you will no longer waste your time with boxed mixes that yield dry, dense breads with muted flavors.  The end result is a moist, flavorful quick bread that contains just the right balance of fruit and spice.  Don't forget to add the nuts for a little much needed crunch. 
My kids love this recipe.  I tend to make it with the intention of eating banana bread for my breakfast for the week.  What actually happens, is the family is constantly snacking on it and the loaf rapidly disappears.  Don't believe me that it's that much better than that store bought boxed junk?  Make one loaf of each and see what's left rotting on the counter.  It won't be your bananas!
Banana Nut Bread Tips and Tricks
Don't be tempted to use your bananas too early.  Everything mixes up so easily when the fruit has reached an over ripe consistency. 
We like walnuts in this recipe but it is still tasty and satisfying without nuts.  You could also experiment with other types of nuts, such as chopped pecans until you find the consistency and flavor that makes this recipe your perfect banana nut bread.
Buttermilk can be used in this recipe.  Just substitute the 1/2 cup of milk with 1/2 cup of buttermilk and eliminate the lemon juice.
Always check your breads with a tooth pick to be sure that your bread is done. The toothpick should come out clean.
Banana Nut Bread Recipe
Author:
Only From Scratch
Ingredients
6 Tablespoons butter
1 cup sugar
3 ripe bananas
3 eggs
½ cup milk
½ Tablespoon lemon juice
2 cups all purpose flour
1 teaspoon baking soda
1 teaspoon baking powder
1 teaspoon ground nutmeg
½ teaspoon salt
½ cup chopped walnuts
Instructions
Preheat over to 350F
Prep a 9 x 5 inch pan by lightly greasing with butter and then lightly flour the pan.
Using the paddle attachment for your stand mixer, mix butter and sugar on medium until the mixture is creamy.
Add bananas and eggs and mix on medium speed until smooth.
Add ½ tablespoon of lemon juice to the milk and stir. Add the soured milk to the mixing bowl and beat on low speed.
In a separate bowl sift together flour, baking powder, baking soda, salt and nutmeg.
Add dry ingredients to the mixing bowl and beat until combined. Batter will be a little lumpy
Fold in walnuts and then pour mixture into the prepared pan.
Bake for 55-60 minutes at 350F.
Allow to cool 5 minutes before transferring to a wire rack to cool completely