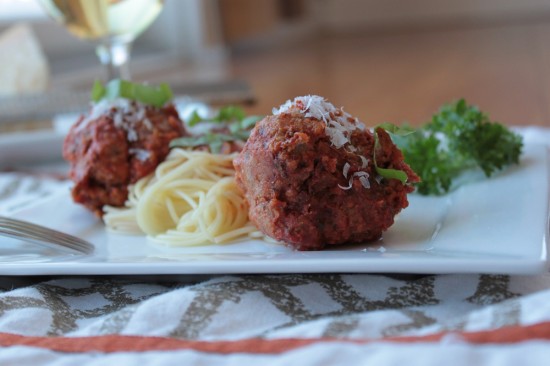 Spaghetti and meatballs is a classic meal that is beloved by both adults and children. Every family must have a slam dunk meatball recipe. Dumping frozen meatballs out of a bag does not count! I had struggled for years to find the right balance of meat, egg, bread crumbs and seasonings to get that perfect meatball. I tried different cooking methods, sauces, meatball sizes, and ground beef with different fat contents. I could never get consistently good results. We had meals that were too dry, too greasy, tasteless, burnt; you get the idea. I'd seen it all. That all changed when turkey pesto meatballs entered my life.
After all of the experimentation, it was revealed to me that the perfect meatball can be derived from poultry! This recipe uses a combination of ground turkey, egg, bread crumbs and (what I believe is what makes this recipe work) pesto. Pesto adds the perfect combination of oil and spices to the meat without overpowering it and leaving the turkey (which alone could have a tendency to be dry) perfectly moist. The end result is a flavorful little ball of perfection that holds together well, has a uniform consistency, and creates limited mess because it simmers quietly in the sauce on the stove top.
Behold! Turkey Pesto Meatballs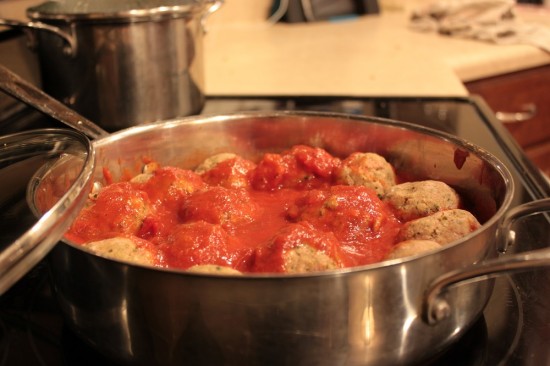 Now that we have a home run meatball recipe, we will eventually move on to making our own sauce. Again, this is an area we have dabbled in with inconsistent results. For now, we prefer the taste and simplicity of Rao's spaghetti sauce, which has no extra preservatives and junk! In addition, we have yet to produce a pesto that isn't a disaster. We buy Buitoni pesto which is free of preservatives and chemicals and, per
BonAppetite
magazine, the cost and taste are similar. As previously stated, our mission is to get rid of the junk, chemicals, dyes and preservatives. I am not against buying some premade items, so long as they are made from real food and are free of this junk. Both Rao's and Buitoni pesto fit this profile, so for now perfecting the homemade versions are not my top priority.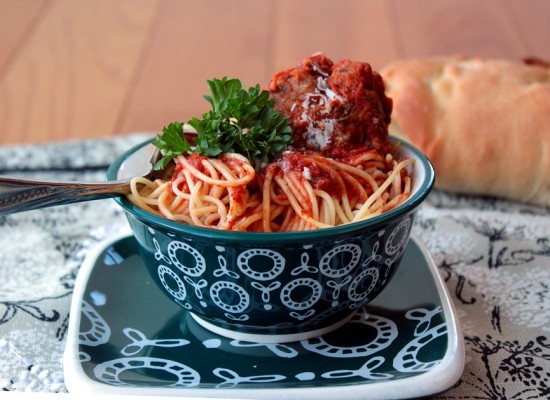 Anyway, this meal is perfect for a family on the go. Everything mixes up quickly in one bowl. Add your sauce to a deep skillet and get it warming. Drop your turkey pesto meatballs in as you roll them. Cover and simmer for about 20 minutes, or until done. Serve it up over a bed of angel hair or make
submarine sandwiches
out of them. And don't be ashamed if you eat them straight out of the pan while your family isn't looking.
Turkey Pesto Meatballs
2014-01-22 14:03:31
Ingredients
1 28 ounce jar purchased chunky tomato pasta sauce
1 pound ground turkey
1 1/2 cup breadcrumbs
5 tablespoons pesto
1 egg
1/2 teaspoon salt
1 box pasta, angel hair preferred
Instructions
Pour pasta sauce into the bottom of heavy large skillet.
In a large bowl, mix turkey, breadcrumbs, pesto, egg and salt until well combined.
Form into desired sized meatballs and place in the sauce in a single layer. Spoon remaining sauce over.
Bring to simmer.
Cover; reduce heat to medium-low and simmer until meatballs are cooked through. Stir periodically. Watch closely. Simmer for approximately 20 minutes depending on the size of your meatballs.
Cook pasta in large pot of boiling salted water until tender. Drain pasta.
Serve with pasta topped with meatballs and sauce. Garnish with fresh parsley or basil if desired.
Adapted from Epicurious
Only From Scratch https://www.onlyfromscratch.com/