Any meal that requires this many moving parts and continues to make it to my table on a regular basis has to be outstanding. The recipe is intimidating. One of my colleagues requested my chicken and biscuits recipe and laughed at me the next day when she discovered that I do not use refrigerator biscuits. We don't muck around, this recipe is no joke and this is no place for Pillsbury!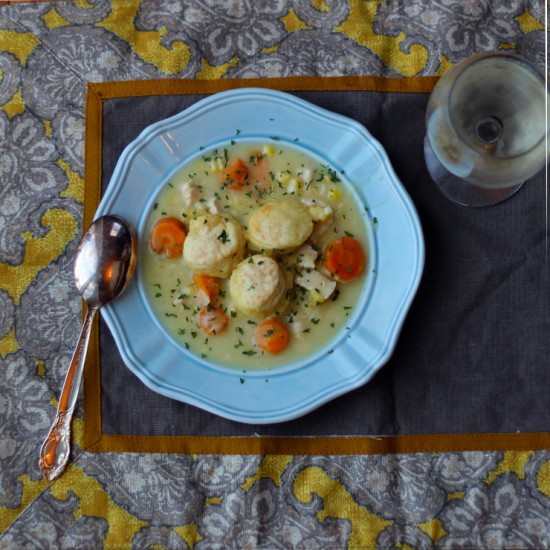 Chicken stew with biscuits is a beast to make but it is worth every minute spent in the kitchen (which was roughly about 90 of them today). Now the actual time spent actively prepping and cooking isn't that bad, but it does generate a fair amount of dirty dishes. Since I prefer to clean while things cook, I get stuck in the kitchen for a while. Anyway, I've made this enough that I finally have the process down.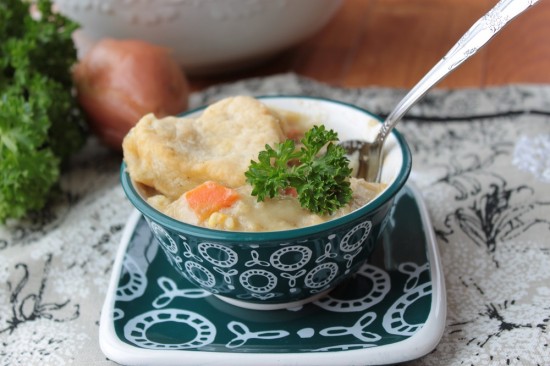 Chicken: Get your chicken breasts started first by preheating the oven to 375 degrees. The original recipe calls for bone in chicken breasts. These will take about 40 minutes to cook but are excellent. This week Shoprite didn't bring my requested chicken breasts so I went with boneless, skinless thick cut breasts. These were generously seasoned and baked at 375 degrees for approximately 20 minutes.
Stock: If you use bouillon cubes you will need to heat your stock to dissolve them. You can save yourself a dirty pot and some time if you use 2 teaspoons of chicken bouillon granules. Today, my stock was frozen so I was stuck with an extra dirty pan.
Chicken Stew: If you are following a low fat diet, stop here. The amount of butter that you will use today will stop your heart (figuratively, but literally isn't entirely out of the question either). Once melted, cook your onions until soft. Add the flour and stir constantly to prevent it from burning. You will then add your stock (heated or not, doesn't really matter) and watch the liquid thicken before your very eyes. Add the carrots and let them blanch while you cut up your chicken. Once your stew has thickened up, toss in the chicken, corn, parsley and seasonings and transfer to the baking dish. Pop it into the oven and move on to the biscuits.
Biscuits: Enlist the help of your stand mixer and you can whip these up in no time. No time saving tricks here, just follow the recipe and gently place them on top of the stew. Let the whole thing go another 20-25 minutes and then you're done.
To avoid serious burns, resist the urge to dive right in. Who am I kidding, once you get a taste of this you won't be able to resist it, burns and all!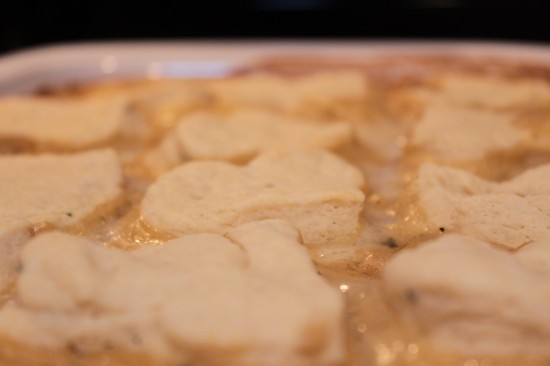 Chicken Stew with Biscuits
2014-01-19 20:46:37
Chicken Stew
1.5 pounds of boneless, skinless chicken breasts
3 tablespoons olive oil
Kosher salt and freshly ground black pepper
5 cups chicken stock, preferably homemade
2 chicken bouillon cubes
12 tablespoons (1 1/2 sticks) unsalted butter
2 cups chopped yellow onions (2 onions)
3/4 cup flour
1/4 cup heavy cream
2 cups medium-diced carrots (4 carrots), blanched for 2 minutes
2 cups frozen corn
1/2 cup minced fresh parsley
Biscuits
2 cups flour
1 tablespoon baking powder
1 teaspoon kosher salt
1 teaspoon sugar
1/4 pound (1 stick) cold unsalted butter, diced
3/4 cup half-and-half
1/2 cup chopped fresh parsley
1 egg mixed with 1 tablespoon water, for egg wash
Instructions
Preheat the oven to 375 degrees F.
Place the chicken breasts on a sheet pan and rub them with olive oil. Sprinkle generously with salt and pepper. Roast until done, approximately 20 minutes depending on thickness.
Allow to cool briefly and cut the chicken into bite sized pieces.
In a small saucepan, heat the chicken stock and dissolve the bouillon cubes in the stock.
In a large pot, melt the butter and saute the onions over medium-low heat for 10 to 15 minutes, until translucent.
Add the carrots to the stock and allow carrots to blanch.
Add the flour and cook over low heat, stirring frequently, for 2 minutes.
Add the hot chicken stock and carrots to the sauce. Simmer over low heat for 1 minute, stirring, until thick.
Add salt, pepper and heavy cream.
Add the cubed chicken, carrots, corn and parsley. Mix well.
Transfer to large baking dish and bake for 15 minutes.
For the Biscuits
Combine the flour, baking powder, salt, and sugar in the bowl of an electric mixer fitted with the paddle attachment.
Add the butter and mix until the butter is the size of peas.
Add the half-and-half and combine. Mix in the parsley.
Transfer the dough to a well-floured surface and roll out to 3/8-inch thick. Cut out twelve circles with a 2 1/2-inch round cutter.
Remove the stew from the oven and arrange the biscuits on top of the filling. Brush them with egg wash, and return the dish to the oven. Bake for another 20 to 30 minutes, until the biscuits are brown.
Adapted from Food Network
Only From Scratch https://www.onlyfromscratch.com/