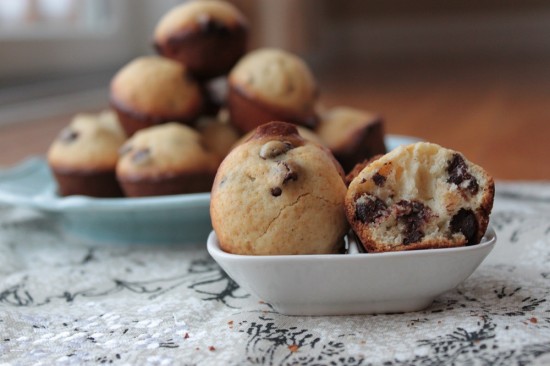 Last week's blueberry muffins disappeared rapidly and the recipe has been our most popular to date (driving tens of visitors per day to our infant website). I decided to whip up another batch for breakfast this week and while pawing through the cupboard, found some chocolate chips left over from my Christmas baking bonanza. Since Eric doesn't do blueberries, I thought that I'd surprise him with chocolate chip mini muffins.
This was a new recipe for our house and I did not follow the recipe exactly as written.
Instead of making more dirty dishes and mixing the dry ingredients separately, I did all steps in one large bowl. I often do this while baking without causing serious harm to my food. Although, I'm sure if this post ever gets read by a cookie guru, I will get scolded for this! Anyway, if you choose to keep it to one bowl, it is important that you mix everything very thoroughly and I do add the flour and then baking powders/sodas and salt on top of the flour to avoid creating pockets of salt and baking powder in the wet ingredients. This method seems to work well for me whether I'm mixing by hand or with my BFF Kitchen Aid.
The original recipe called for the muffins to be baked at 425F degrees if you are doing full sized muffins. Since I had batter left over, I did bake a few full sized muffins and these did burn. I would recommend leaving the temperature at 375F degrees for muffins big and small, especially if you are using dark nonstick pans like I was.
All in all, these muffins are good and they won't last long around here. Only time will tell if they will be as popular as our blueberry muffins.
Chocolate Chip Mini Muffins
2014-01-19 19:26:42
Ingredients
3 cups all-purpose flour
4 teaspoons baking powder
1 teaspoon salt
1 teaspoon ground cinnamon
1/4 teaspoon ground nutmeg
2 eggs
1 cup sugar
1 cup milk
1/2 cup vegetable oil
1/2 teaspoon vanilla extract
1 and 1/4 cups semi-sweet chocolate chips
Instructions
Preheat oven to 375F degrees.
Spray your muffin tin with non-stick spray. Set aside.
In a large bowl, whisk together eggs and sugar until combined.
Mix in milk, oil, and vanilla.
Add flour, baking powder, salt, cinnamon, and nutmeg to the large bowl, waiting until all dry ingredients are added before mixing. Mix by hand with a wooden spoon.
Stir in the chocolate chips.
Pour batter into prepared muffin tins.
Bake at 375F degrees approximately 12-15 minutes, or until tops are golden brown.
Adapted from Sally's Baking Addiction
Only From Scratch https://www.onlyfromscratch.com/