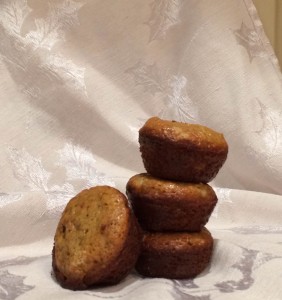 Living less than a half a mile from Dunkin Donuts means that my kids clamour for a greasy, nasty breakfast all too often. For the most part I'm a pretty mean mom, but there are days when a fresh banana nut muffin would really hit the spot. So when Eric pointed out that our daughter's beloved bananas had graduated to nasty black peel situation, it was clear we had reached a pivotal moment in these bananas lives. Should they continue to rot on the counter? Or shall we create breakfast? Breakfast won.
This recipe is adapted from the Williams Sonoma recipe for banana nut bread. As delicious as this bread is, I did not feel like waiting out a 55 minute baking time at 8 pm. Mini-muffin trays to the rescue! Since the actual preparation of this recipe is relatively quick, a switch to muffins meant that these babies would be done and the kitchen clean within a half hour!
With the help of my Kitchen Aid stand mixer, fitted with the paddle attachment, I combined the butter and sugar until creamy. These bananas were pretty mushy so I just tossed them into the mix without mashing them first and then added the eggs. If the addition of milk and lemon juice sounds a little out of place, that's because it is. Making banana muffins on a whim, means being able to adapt. This recipe originally calls for buttermilk and who the heck has that just sitting around? Not me.
Anyway once all that stuff is looking nice and happy, the dry ingredients go in. You end up with a nice lumpy batter in about 5 minutes. We omitted nuts from this recipe so that my youngest can enjoy these muffins. If you have them on hand, definitely add some chopped nuts (I prefer walnuts) for a little crunch! Add the nuts last and stir to combine. Bake them in a mini-muffin tray and you're done after 15 minutes of baking. Use a larger muffin tin and it takes about 20 minutes. Isn't it nice to go from rotting produce to future breakfast with less active prep time than it takes to drive to your favorite bakery? You're welcome!
Banana mini-muffins
2013-12-29 19:31:30
Ingredients
6 tbsp butter
1 cup sugar
2 mashed bananas
3 eggs beaten
1⁄2 cup milk
1/2 Tbsp lemon juice added to milk
2 cups all-purpose flour
1 tsp baking soda
1 tsp baking powder
1 tsp nutmeg
1⁄2 tsp kosher salt
Instructions
Preheat an oven to 350°F. Spray mini muffin tin with non-stick spray.
In a small bowl combine the milk and lemon juice. This will sour this milk.
In the bowl of an electric mixer fitted with the flat beater, beat together the butter and sugar on medium speed until creamy, about 1 minute. Add the bananas and eggs and beat until smooth. Add the milk with lemon juice and beat just until combined.
In a bowl, stir together the flour, baking soda, baking powder, nutmeg and salt. Add the flour mixture to the banana mixture and beat just until combined. The batter should be slightly lumpy. Scrape down the sides of the bowl.
Fill muffin cups to until 2/3rds full.
Bake for 15 minutes, or until done.
Adapted from Williams Sonoma
Only From Scratch https://www.onlyfromscratch.com/