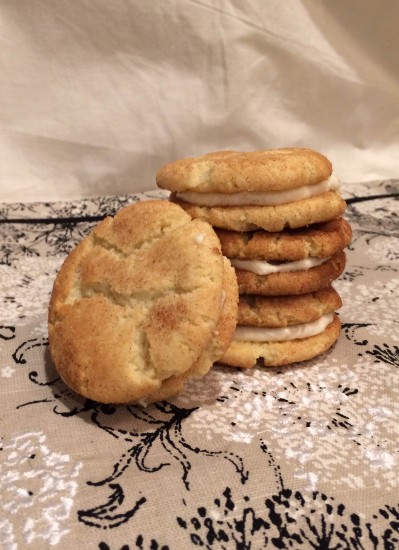 It was 8 PM and I wanted cookies. This was after a major snowstorm and in the middle of a cold snap. Food supplies were getting low and the grocery store just called to say they couldn't deliver my groceries. That's okay, I thought. I can make snickerdoodles because I always have those ingredients on hand.
Into the mixer went the butter. Next went the baking soda and after a long search for the cream of tartar, that went in too. On to the eggs. Much to my dismay the eggs were gone. So what's a girl to do when she's craving cookies and it's so cold outside that she'd rather throw the whole thing in the trash than go to the store?
Egg Free Bakery to the rescue! I found this delightful recipe with the help of a frantic Google search and the results were fantastic. These cookies have the same taste as my usual recipe and the cookies actually stay soft the next day. Dare I say that I may use this recipe from here on out?
Snickerdoodle Cookies with Cream Cheese Filling (Egg Free Recipe)
2014-01-05 09:37:10
Cookies
½ cup butter
½ cup vegetable shortening
4 oz cream cheese, softened
1 -1/2 cups sugar
3 cups flour
2 tsp. cream of tartar
1 tsp. baking soda
¼ tsp. salt
2-1/2 tbsp. sugar
2-1/2 tsp. cinnamon
Cream Cheese Frosting
4 oz. bar cream cheese, softened
1/4 cup butter , softened
1/2 tsp vanilla extract
2 cups powdered sugar
Instructions
Cream together butter and shortening.
Add cream cheese and beat until smooth and fluffy.
Beat in sugar.
Add flour, cream of tartar, baking soda and salt. Mix well.
Form into 1-inch balls.
In a small bowl, mix together sugar and cinnamon; roll each dough ball in mixture.
Place on ungreased cookie sheet and flatten each cookie slightly with your hand or the bottom of a glass cup.
Bake at 400 degrees for 8-10 minutes. Let cookies cool on cookie sheet for 5-10 minutes before removing to a wire rack to cool completely.
Cream Cheese Filling
Beat the cream cheese and butter together.
Mix in vanilla.
Slowly add the powdered sugar. Once all the powdered sugar is added, increase to a higher speed to whip up the frosting till light and fluffy.
Spread on the bottom of one cookie when completely cooled and top with another cookie to form a sandwich.
Adapted from Egg Free Bakery
Only From Scratch https://www.onlyfromscratch.com/