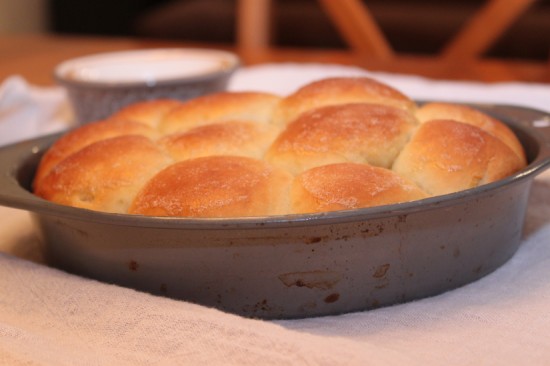 This recipe represents my first attempt at a homemade yeast bread item and it's success is largely to blame for the insanity that ensued. Had these rolls been disgusting, I do believe we may have never moved forward with our quest to rid our house of store bought breads. I LOVE rolls and always have since I was a little girl. But homemade rolls from scratch elevates the dinner roll experience to a whole new level.
I had worked with yeast before, in a laboratory setting and also during an internship at the F.X. Matt Brewery, but never like this. I'm a fan of science, but you shouldn't eat your experiment. I'm not a fan of beer. So yeast in this format wins hands down for me.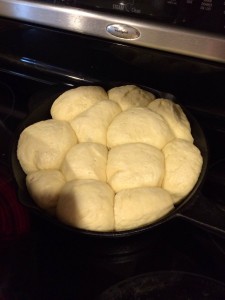 These days we're buying yeast in jars, so I get out the trusty kitchen scale and measure out 0.75 grams of yeast for this recipe. I do enjoy setting my water, yeast and sugar up in a measuring cup over a warm burner to activate the yeast. Brings me back to my science dork days. If you try this set up, remember the water should not be too hot or you'll kill the stuff. I pop the burner on for about a minute and then set the cup up on a wire rack and let the yeast do the rest. After about five minutes you've got a beautiful foamy mixture.
Once you're nice and foamy, transfer the yeast mixture to your mixing bowl fitted with the paddle attachment and add the honey. Once mixed, you'll add the eggs, salt and melted butter to your mixture. Again, be sure that your butter isn't super hot because you don't want to cook the eggs or murder your yeast! Once combined, it's flour time!
Before you add flour, switch to the dough hook attachment on your mixer. The first 4-5 cups of flour can go in one full cup at a time. Add the last cup a little at a time. You're dough is ready when it no longer sticks to the side of the bowl and clings to the dough hook.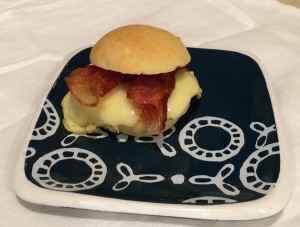 Shape the dough into rolls and arrange on a baking sheet, in a pan or in an iron skillet. Let them rise until they have doubled in size and then toss them in the oven for 25 minutes. In less than an hour, you'll have tasty, homemade dinner rolls 100% from scratch.
What if you can't eat 2-3 dozen rolls in one sitting? These versatile rolls made some top notch bacon, egg and cheese sandwiches!
Quick Dinner Rolls
2014-01-12 21:10:54
Ingredients
3 (.25-ounce) packets active dry yeast
1 3/4 cups warm water
1/2 cup honey
1/2 cup melted butter
2 teaspoons salt
2 large eggs, beaten
6 cups bread flour (approximately)
Instructions
Preheat the oven to 400 degrees.
Combine the yeast with warm water (approximately 110 degrees F) and stir with the paddle attachment of the stand mixer. Stir until foamy, about 5 minutes and then stir in the honey.
Add 1/2 cup melted butter, 2 teaspoons salt, and two beaten eggs.
Switch to the dough hook and slowly add the flour cup-by-cup until fully incorporated. The dough will pull away from the sides of the mixing bowl. Add the last cup a little at a time to avoid adding too much. You may need to add a little extra.
Form the dough into rolls (this recipe made 3 dozen small rolls the last time that I made it).
Arrange on a baking sheet, round cake pan or in a cast iron skillet, spaced evenly apart.
Allow to rise approximately 20 minutes, or until doubled in size.
Brush the rolls with melted butter and sprinkle with salt.
Bake for 25 minutes until the tops are golden brown.
Only From Scratch https://www.onlyfromscratch.com/