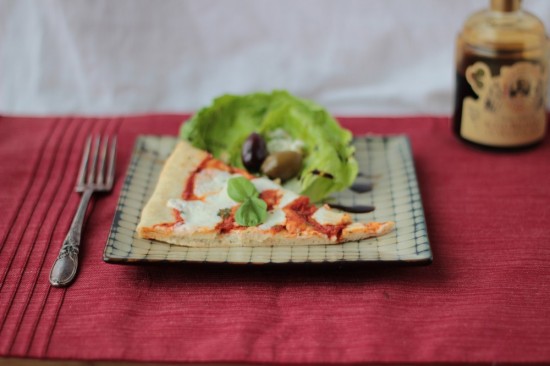 When it comes to making pizza at home, you have quite a few options. There are frozen dough balls and precooked shells, those fresh-ish ones sold in the deli aisle, powdered mixes, "fresh" dough balls in the refrigerator section and even some pizza shops will sell you their dough. Buy, why go through all of that when you can make great pizza dough at home? We have made this recipe many times and have never had it let us down. We even use it for our garbage bread recipe. It takes only six common ingredients and I bet you have most of them in the house right now!
When it comes to preparing the actual pizza, I either hand stretch or roll out the dough. I partially cook the dough on a pizza stone in the oven at 475F. You need the hot oven to get that great brick oven pizza experience at home. It only needs to go in for about 5-6 minutes which ensures that your dough will be cooked all the way through without burning your cheese and toppings. Once you add the sauce, cheese and toppings, it will only need another 5-6 minutes to be done. I like to let it rest for a few minutes before eating.
Take a look at these results!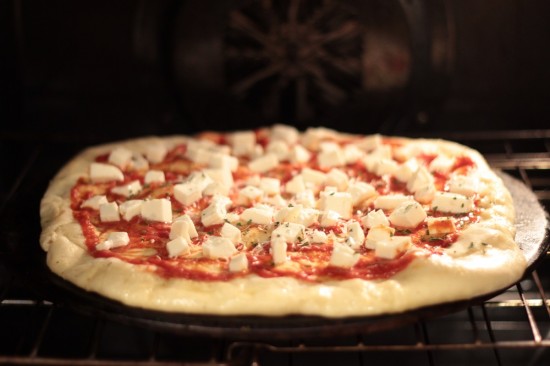 Above: pizza in the oven prior to cooking
Below: Finished pizza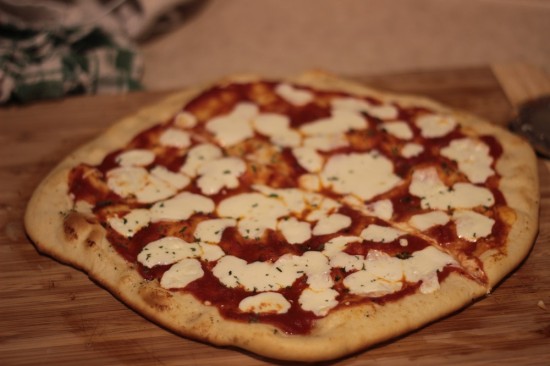 Homemade pizza dough
2014-02-22 17:12:12
Ingredients
3 1/2 to 4 cups bread flour
1 teaspoon sugar
1 envelope instant dry yeast
2 teaspoons kosher salt
1 1/2 cups water, 110 degrees F
2 tablespoons olive oil, plus 2 teaspoons
Instructions
Combine the bread flour, sugar, yeast and kosher salt in the bowl of a stand mixer and combine. While the mixer is running, add the water and 2 tablespoons of the oil and beat until the dough forms into a ball. If the dough is sticky, add additional flour, 1 tablespoon at a time, until the dough comes together in a solid ball. If the dough is too dry, add additional water, 1 tablespoon at a time. Scrape the dough onto a lightly floured surface and gently knead into a smooth, firm ball.
Grease a large bowl with the remaining 2 teaspoons olive oil, add the dough, cover the bowl with plastic wrap and put it in a warm area to let it double in size, about 1 hour. Turn the dough out onto a lightly floured surface and divide it into 2 equal pieces. Cover each with a clean kitchen towel or plastic wrap and let them rest for 10 minutes.
Notes
Use bread flour for a crispier crust. If you prefer a chewier crust, use all purpose flour.
Adapted from Bobby Flay
Only From Scratch https://www.onlyfromscratch.com/