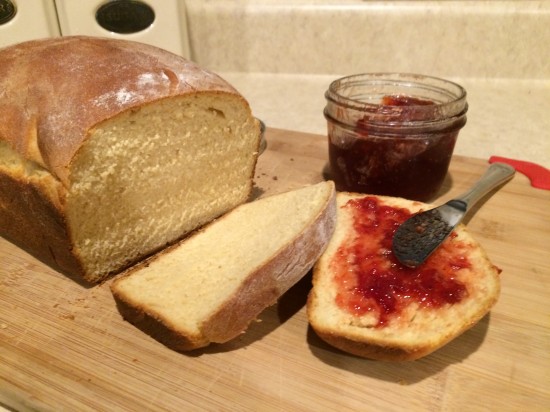 Do you like bread? Do you like bread with jam? If you like eating bread with jam then you're going to want to try this recipe out. It's quite delicious and makes some top notch toast.
My first order of bread making business was to get a rock solid white bread recipe for my oldest daughter, who is currently boycotting the healthy goodness of whole grain breads. Bread Mission #1 accomplished on the first try! Although that white bread recipe is fantastic, I prefer to eat wheat bread. So onto Bread Mission #2.
My search for the perfect wheat bread recipe brought me to this well reviewed honey wheat bread recipe on Allrecipes.com. I really like the feedback that I find on that website so that I can learn what worked, what didn't, and if I need to change something before I make mistakes. In reading the reviews, I concluded that I should not have any issues with this bread.
The bread is very easy to make and if you can follow instructions (and have a stand mixture-which is my new BFF by the way) you should have no trouble with this recipe. I may try adding another packet of yeast the next time that I make this recipe because it did take a while to rise. Once it got to the oven the bread did perk right up and produced a respectable loaf of bread that had a nice crunchy, buttery crust.
We all tried it out as a different type of sandwich and it held up well to grilled cheese, PB&J and chicken salad. But, it was best toasted with strawberry jam (homemade of course!). The loaf was hard as a rock the next day so I'm glad the other one is in the freezer and that we devoured most of it quickly!
Homemade Honey Wheat Bread
2014-01-14 21:17:14
Ingredients
1 (.25 ounce) package rapid rise yeast
1 teaspoon white sugar
1/2 cup warm water
1 (12 fluid ounce) can evaporated milk
1/4 cup water
1/4 cup melted shortening
1/4 cup honey
2 teaspoons salt
2 cups whole wheat flour
3 cups bread flour
2 tablespoons butter
Instructions
Add the yeast and sugar to 1/2 cup warm water (approximately 100F). Whisk together and allow the mixture to proof while you move on to your next step.
In the mixing bowl for the stand mixer, combine milk, 1/4 cup water, melted shortening, honey, salt and wheat flour using the paddle attachment.
Once the yeast mixture is foamy, add this to the mixing bowl and combine. Allow to rest for 15 minutes.
Add bread flour one cup at a time, and process until dough forms a ball.
Knead dough using the dough hook attachment on low speed for 8-10 minutes.
Place the dough in a well oiled bowl, and turn to coat. Cover the bowl with plastic wrap. Let dough rise for 45 minutes, or until doubled.
Once risen, punch dough down, and divide it in half.
Form into loaves, and place in buttered 9x5 inch bread pans. Butter the tops of the dough, and cover loosely with plastic wrap. Let rise until doubled for about 30 minutes.
Place a small pan of water on the bottom shelf of the oven. Preheat oven to 375 degrees F (190 degrees C).
Bake for 25 to 35 minutes, or until tops are dark golden brown. Slice when cool.
Adapted from Allrecipes
Only From Scratch https://www.onlyfromscratch.com/