Growing up just outside of Utica means that chicken riggies were a must have at picnics, family functions, and on restaurant menus. Interestingly, if you stray too far from the Utica/Rome region people don't know what the heck you're talking about. Over the past few years, I have seen Utica chicken riggies popping up on menus here in the Capital district. This is not a dish that I would ever order when dining out but when it showed up at a work lunch, I decided to partake.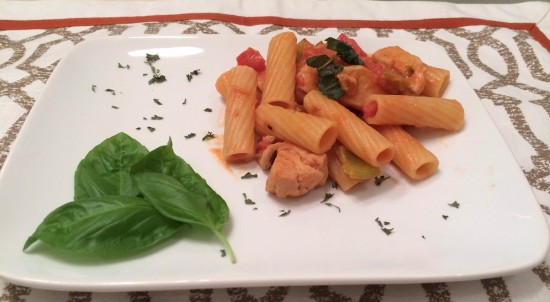 Very rarely am I so infuriated by bad food that I will take to my Facebook page and rant about it. There are many variations of the chicken riggies recipe and what they all have in common are chicken (obviously), tomato sauce (no brainer), cream (for this particular lunch was obviously an unknown ingredient) and peppers (also not present in my lunch that day!). You cannot just combine sauce, chicken and rigatoni and call it riggies people!
In our family, we all make it a little differently but the base flavors remain the same. You can vary the peppers to adjust the heat. My mom uses bell peppers, mushrooms and olives in hers. We've recently tried some different types of peppers and have come up with a real winner that delivers the right amount of heat. This is how we do it in my house!
We paired this with salad and homemade dinner rolls. Keep checking back for another Utica favorite (and perfect Utica chicken riggies side dish) when Eric shares his Utica greens recipe!
Utica chicken riggies tips and tricks:
Use this as a guideline and adjust it to fit it to your tastes. If you like the spice and want to use super hot peppers, go for it.
Utica Chicken Riggies
2014-01-11 21:06:16
Ingredients
1 (16 ounce) package rigatoni pasta
3 tablespoons extra-virgin olive oil
1 1/2 pounds skinless, boneless chicken breast, cut in bite-sized pieces
salt and pepper to taste
1 onion, diced
3 cloves garlic, minced
2 cubanelle pepper, seeded and thinly sliced
3 roasted red peppers, drained and chopped
2 hot cherry peppers, seeded and minced
1 (28 ounce) can crushed tomatoes
1/2 cup chicken stock
1/2 cup heavy cream
2 tablespoons of sherry
Instructions
Bring a large pot of lightly salted water to a boil over high heat. Add the rigatoni pasta, and cook until al dente, 8 to 10 minutes. Drain and reserve pasta water.
Heat the olive oil in a large skillet over medium-high heat. Season the chicken with salt and pepper. Add chicken to the hot pan and brown on all sides.
Add the onion, garlic, and cubanelle peppers. Cook and stir until the onion has softened, about 5 minutes.
Add the roasted red peppers, hot cherry peppers, crushed tomatoes and chicken stock. Bring to a simmer.
Stir in the heavy cream and sherry. Simmer for 10 minutes (You can simmer longer if desired.)
Stir in the cooked pasta until coated. If sauce is too thin, add a ladle full of pasta water to thicken.
Adapted from Allrecipes
Only From Scratch https://www.onlyfromscratch.com/