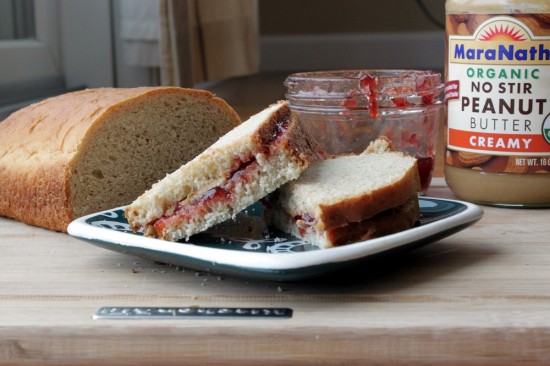 My apologies, we have been so slow with updates this week. Sunshine has been in short supply and beautiful pictures of our food have not been happening! We continued our quest for tasty wheat bread this week by trying this recipe from the King Arthur flour website.
This recipe was relatively easy, definitely not as simple as our white bread recipe, but it was worth the effort. I was a bit disappointed that the dough did not rise much as I would have anticipated and the loaves turned out a little small for sandwiches. I do believe that the majority of the blame lies with me as I rolled out two very mismatched loaves. Eric reduced the size of one of the loaves and made a third little sampler loaf that probably used about 10-15% of the dough.
I believe that the biggest potential for error with this recipe is if you do not allow the oatmeal mixture to cool sufficiently before adding the yeast. My mixing bowl wanted to hold the heat and it took almost twice as long as expected for my mixture to come down to 110 degrees F. Get impatient and add your yeast too early and it's certain death to the microbes and your bread. I verified the temperature with a thermometer before adding the yeast and made sure to stir the mixture and recheck the temperature in case there were hot pockets.
The final product had a nice consistency and texture. The flavor combination of oatmeal, wheat and honey was comforting and sweet. I prefer it to the last wheat bread recipe that I made and I do think that I will make this recipe again, but perhaps adding a bit more yeast next time. Although my slices always turn out with a weird thickness and the loaves were misshapen, this bread was so much better than any store bought variety.
Oatmeal Honey Whole Wheat Bread
2014-02-13 16:11:14
Ingredients
2 cups boiling water
1 cup rolled oats, quick (not instant)
1/2 cup brown sugar
1 tablespoon honey
1/4 cup (4 tablespoons) butter
1 tablespoon kosher salt
1 teaspoon ground cinnamon
1 1/2 tablespoon active, dry yeast
1 1/2 cups whole wheat flour
4 cups white bread Flour
Instructions
In mixing bowl for the stand mixer, combine the water, oats, brown sugar, honey, butter, salt, and cinnamon. Let cool to lukewarm, about 10 to 15 minutes.
Add the yeast to the mixture when lukewarm. Check to be sure that the temperature is not higher than 120 degrees. Mix the yeast in and allow to stand for 5-10 minutes.
Add flours, stirring to form a rough dough.
Knead for 5-7 minutes using the dough hook attachment.
Transfer the dough to a lightly greased bowl, cover the bowl with lightly greased plastic wrap, and allow the dough to rise for 1 hour.
Divide the dough in half, and shape each half into a loaf. Place the loaves in two greased 8 1/2" x 4 1/2" bread pans.
Cover the pans with lightly greased plastic wrap and allow the loaves to rise until they've crowned about 1" over the rim of the pan, about 60 to 90 minutes.
Bake the loaves in a preheated 350°F oven for 35 to 40 minutes. Remove them from the oven when they're golden brown.
Place the loaves on a wire rack to cool.
Adapted from King Arthur Flour
Only From Scratch https://www.onlyfromscratch.com/