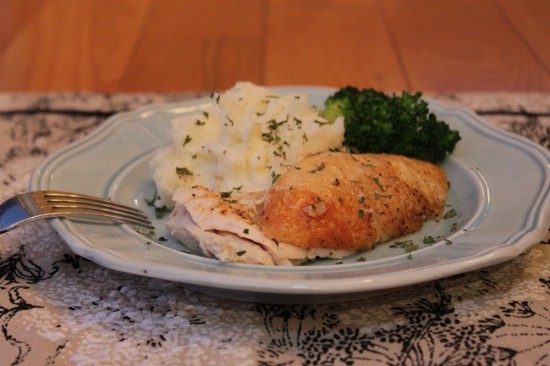 On Sundays I like to prepare meals that take a little longer to cook. Sometimes I choose recipes that are more involved. Not today! Lately our kitchen gets a workout on Sundays, as we bake the week's bread and lunch treats. Eric was also bustling around the kitchen today too. When all of that was done it was a relief to make a dinner that was so easy!
For our family of four, two split chicken breasts are more than enough meat. Depending on my weeknight meal plans, I will often make an extra set for use in other meals. Anyway, preheat your oven to 375 degrees while you prepare the chicken. I prefer to bake these on a cookie sheet. Drizzle each breast with a little olive oil and generously season with kosher salt, pepper, garlic powder and onion powder. That's it! Bake them for about 40 minutes, or until done. The skin should be golden brown and crispy. Always let the meat rest before you cut it!
I have also provided you with a recipe for basic mashed potatoes. I nearly had a heart attack while watching a sitcom where the mother made instant mashed potatoes for Thanksgiving dinner. Mashed potatoes are so simple and delicious, I cannot fathom a scenario where serving the instant variety works out better than the real thing. If you take the time to make them consider doubling the batch for use on a weeknight. Even if you're time is limited, potatoes can be ready in under 30 minutes or even faster if you cut your potatoes super small!
We served these chicken breasts with easy mashed potatoes and broccoli. A simple, basic meal that is the essence of comfort food without creating an enormous mess or consuming all of your afternoon with food prep!
Oven Roasted Chicken Breasts
2014-02-09 20:17:59
Ingredients
2 split chicken breasts (bone-in, with skin)
2 Tablespoons olive oil
1 teaspoon kosher salt
1 teaspoon freshly ground black pepper
1 teaspoon garlic powder
1/2 teaspoon onion powder
Instructions
Preheat the oven to 375 degrees F.
Prepare chicken by rinsing and patting dry with paper towels. Place on a cookie sheet.
Drizzle olive oil over the chicken breasts.
Season generously with salt, pepper, garlic powder and onion powder.
Bake at 375 degrees F for 35-40 minutes or until the juices run clear.
Allow to stand 5-10 minutes before slicing.
Only From Scratch https://www.onlyfromscratch.com/
Basic Mashed Potatoes
2014-02-09 20:24:57
Ingredients
3-4 large russet potatoes, peeled and cubed
3 Tablespoons of butter, softened
1/4 cup sour cream
1/4 cup heavy cream
Salt and pepper to taste
Instructions
Wash, peel and cut potatoes into 2 inch cubes
Place potatoes in a large pot and cover with water. Bring to a boil.
Boil potatoes until fork tender, 20-30 minutes depending on the size of your potato pieces.
Drain and return to the pot.
Place the pot on the warm burner for 30 seconds to remove excess moisture from the potatoes.
Add 3 tablespoons of butter and sour cream to the potatoes. Mash with a potato masher.
Slowly add cream (or milk) to the potatoes while continuing to mash. Go slowly! You may need more or less cream depending on the size of your potatoes and the desired consistency.
Once smooth and creamy add salt and pepper to taste.
Notes
This is a very basic mashed potato recipe that can be altered to taste. To avoid a runny mess, be sure to drain the potatoes well and cook off excess moisture. Resist the urge to get out the hand mixer.
Only From Scratch https://www.onlyfromscratch.com/