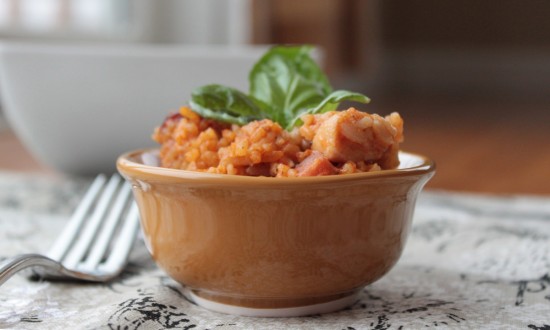 You will find no sea creatures in this jambalaya recipe. Collectively, we just can't agree on seafood. My oldest loves fish and shrimp. I'll eat haddock, lobster and crab. Eric is a scallops and clams kind of guy. My youngest can't have shellfish. See why we avoid it?
This is a creole jambalaya recipe that is free of seafood. The recipe builds its flavors starting with the traditional chicken, Andouille sausage, peppers, onions, celery and tomatoes. Generous seasonings add interest and heat to the simmering stock that will your rice will cook in. Unlike traditional jambalaya, this recipe contains ham and you will not add seafood at the end of this recipe. No crawfish or shrimp here (bleh).
This recipe can seem overwhelming when you read through it. As written, it can be completed in as little as 30-45 minutes but is best if you have time to let it simmer a bit.
As my oil heats up, I chop my celery and onions and add them to the pan to get things started. Once these are in the pan, onto the jalepanos. For this recipe we prefer to use pickled jalepanos and I limit the quantity to about 1/8 cup of peppers per the request of the children. I hold the garlic until just before my meat is ready to go in.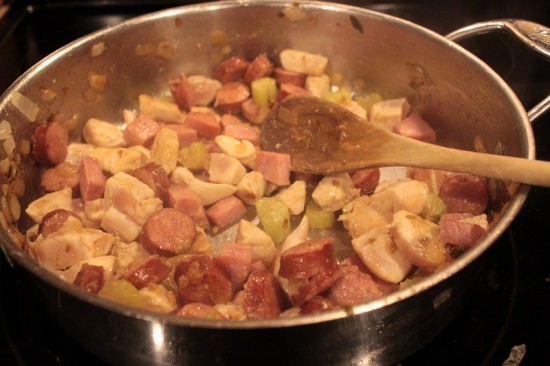 The original recipe calls for the chicken to be precooked. I have yet to figure out why. I simply cut the uncooked chicken into bite sized pieces and add it to the pan. We use a ham steak, cut into small pieces, for the ham component and slices of Andouille sausage (when the grocery store decides to keep this in stock). While these guys get to know each other in the pan, I start gathering my stock, tomatoes and spices.
Add your tomatoes next. I have reserved the few jars of whole tomatoes that I preserved this summer for jambalaya only. These particular tomatoes break down in the stock much better than any stewed tomatoes that I have ever bought.
The original recipe does three cups of liquid, half chicken stock and half water. I find the flavor to be much richer when we use a full three cups of stock instead of 50:50 mixture.
Once your liquids are in, work in your spices. Don't overdo it on the red pepper! Let it simmer from 5-20 minutes and then add one cup of rice. We prefer Basmati rice, which cooks in about 20 minutes. Be sure to stir it every once in a while as the rice cooks. Serve it up with some fresh cornbread muffins or this tasty beer bread that Eric made tonight!
Beware of the left overs, things get a little spicy overnight!
Spicy Creole Jambalaya
2014-01-18 19:34:19
Ingredients
1 yellow onion, chopped
1 cup celery, chopped
1/8 cup jalepenos, chopped
1 clove garlic, minced
1 cup cubed chicken
1/2 pound Andouille sausage, sliced
1 cup ham, cubed
1/2 cup whole tomatoes
3 cups chicken broth
1 1/2 tsp paprika
1/2 tsp basil
1/8 tsp red pepper or to taste
1/2 tsp thyme
1 bay leaf
1 Tbsp creole seasoning
1 cup rice
Instructions
In a large skillet, heat 2 tablespoons of olive oil on medium heat. Add onion, celery and jalepenos and cook 2 minutes.
Add garlic and cook until fragrant (about 30 seconds).
Add chicken (cooked or uncooked), sausage and ham and cook for 5 minutes, stirring frequently.
Add whole tomatoes and chicken broth to the pan. Next add seasonings and bring to a boil. Reduce heat and simmer approximately 5 minutes.
Add 1 cup of rice (we use basmati) and simmer until cooked.
Only From Scratch https://www.onlyfromscratch.com/