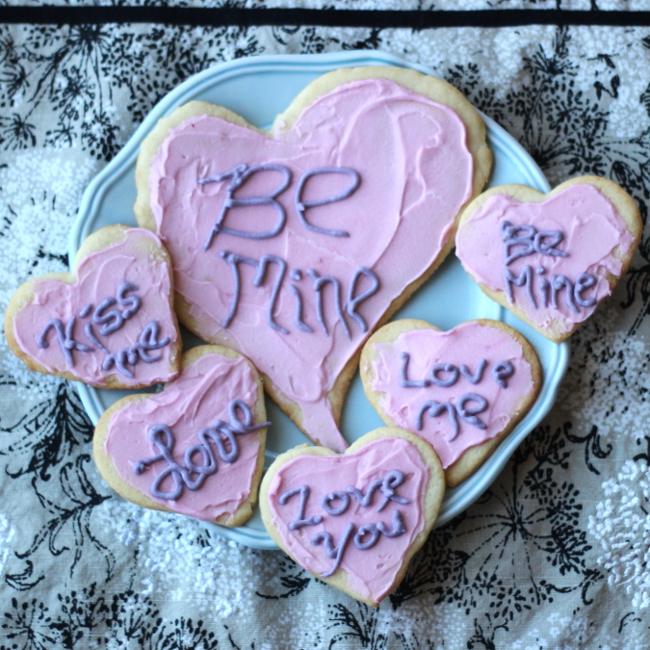 Valentine's Day is all about celebrating love. Today we celebrate this recipe, which I LOVE. My mother made these cookies for all sorts of holidays for as far back as I can remember. I remember having to bring extras in my lunchbox for my friends because they too were hooked on Mom's butter cookies. Every holiday season we would sit down to a table full of colored frosting bowls and stacks of blank cookies. My brother and I would go nuts frosting, sprinkling, and chowing down during Christmas time. And of course, now the tradition lives on in my own house.
Let's get down to business. These cookies are not difficult, but many people still mess them up.
Butter: Many recipes will call for unsalted butter. I have always made these with salted butter but did try once with the unsalted variety. If you want people hooked, go all in and use the salted butter. Be sure to let the butter soften. This is best achieved by allowing it to sit on the counter top for a few hours before you get started. Resist the urge to use the microwave.
Flour: Where many people go wrong is that they add too much flour by packing the measuring cup very tightly. Loosely packed flour that has been leveled is best. Baking experts will advise you to scoop the flour into the cup and then level it. Do not press the flour down!
Juice: Don't overlook this step. It makes a difference. I used pineapple juice in a pinch and the cookies were still delicious.
Baking: So many people will overcook these cookies. Set your timer for 6 minutes and check them. You may need to let them go a little longer but watch them closely. Remove them when the edges start to brown a little. They will continue to cook on the baking sheet after you remove them from the oven. I prefer to use the convection oven for baking cookies so that I can do more than one tray. The cookies often bake a little faster this way, keep a close eye on them!
Frosting: Don't skip this part! Take care not to add too much milk to the frosting. You want a spreadable consistency that is not runny. You can also put it into a piping bag to frost the cookies. I have no cookie decorating skills so we just slop it on there and then place them back on the trays. I put them in the freezer for about 5-10 minutes so that the frosting sets and I can stack them on top of each other for storage.
Remember when I told you how to make a cheesecake that would make people like you? If you want a cookie to do that while making them super envious of your mad baking skills at the same time, this is it!
Want to show off at a party? Make these.
Want to have the best dessert at the company picnic? Make these!
Want to make other mom's jealous? Make these!
Does it work? Heck yeah! And how do I know? Done all three! 🙂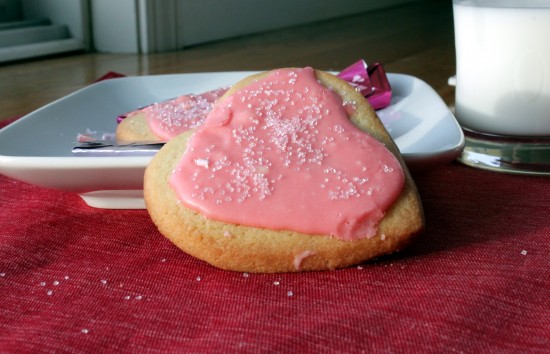 Valentine's Day Butter Cookies
2014-02-11 19:57:44
Ingredients
1 cup salted butter, softened
1 cup granulated sugar
1 egg
2 Tablespoons of orange juice
1 Tablespoon of vanilla
2 1/2 cups of all purpose flour
1 teaspoon baking powder
Frosting
3 cups of powdered sugar
1/3 cup butter, softened
1 teaspoon vanilla
1-4 tablespoons milk
red food coloring
Cookies
In a large mixing bowl (I prefer the stand mixer) combine 1 cup of softened butter, sugar and egg and beat at medium speed using the paddle attachment. Beat until the mixture is smooth and creamy.
Add orange juice and vanilla and mix until well combined.
Add flour and baking powder to the bowl and combine at low speed.
Divide the dough in half and wrap with plastic wrap. Refrigerate for 2 hours.
Remove dough from the refrigerator and preheat the oven to 400 degrees F.
Roll out the dough until 1/4 inch thickness on a floured surface. Cut with your favorite cookie cutters and place on an ungreased cookie sheet, one inch apart.
For Valentine's Day cookies, use a heart shaped cookie cutter. If using different sizes, make one batch at a time of similar shaped cookies.
Bake 6-10 minutes or until lightly browned. Let stand 1 minute on cookie sheet; remove to cooling rack. Cool completely before frosting.
Frosting
Combine powdered sugar, 1/3 cup butter and vanilla in a medium bowl. Using a hand mixer, beat at low speed until combined. Add milk, one tablespoon at a time until you reach the desired consistency. Mixture should be smooth and spreadable, not runny. Add a few drops of food coloring and mix until combined.
Spread frosting onto completely cooled cookies, add sprinkles if desired. Place the cookies on a clean cookie sheet and set in the freezer or refrigerator for 5-10 minutes to set the frosting.
Adapted from Land O'Lakes
Adapted from Land O'Lakes
Only From Scratch https://www.onlyfromscratch.com/