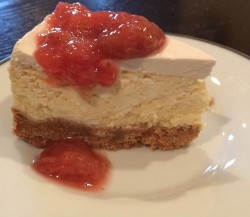 Too many people think that Jell-O "no bake" is an acceptable method of making cheesecake. It is NOT for two reasons:
It is not from scratch.
It is not good!
Stop being intimidated by cheesecake people! This is one of the easiest desserts on the planet. If you can follow directions, you can make this cheesecake.
I have been making this recipe for over a decade. This recipe goes back to my days of not being able to cook anything (see earlier posts explaining my early kitchen fails). The recipe comes from a family friend and has been a staple at birthday and holiday gatherings for years. It's not complicated, but let me walk you through it.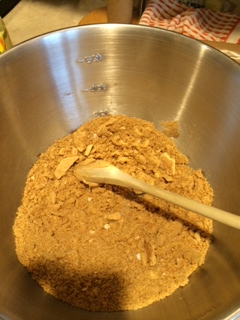 The original recipe called for the graham cracker crust to line both the sides and bottom of the pan. I have found that the extra crust along the sides typically crumbles and falls off so I keep my crust localized to the bottom of the pan only. Approximately 2/3 of the graham cracker box seems to be the ideal amount for this crust but you can adjust depending on how thick you want the crust to be. Over the years, I have simply put the crackers into a gallon bag and crushed them with a rolling pin. Use a food processor for a faster and more consistent crust. Most recently, I gave in and used the food processor, after my trusty plastic bag burst and sent crumbs all over my counter top.
After the crust has been mixed together, press it into the bottom of your springform pan. The original recipe did not require baking the crust before cooking the filling. I picked this step up from another cheesecake recipe and started doing it so long ago that I don't remember how it was without baking the crust. I assume it was an improvement because I continue to do this step.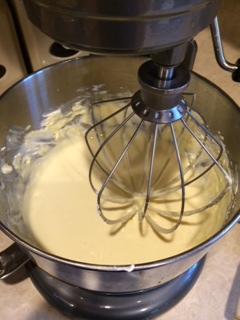 The filling is super easy. Simply add your cream cheese and sugar to your mixing bowl and combine well. Add eggs one at a time and beat well in between each addition. Don't forget the vanilla! Once nice and creamy, pour the mixture into your pan and bake for 50-55 minutes. If you have a dark springform pan, reduce the oven temperature to 325F and watch it closely. It will cook faster. Your cheesecake is done when the center of the filling does not move when the pan is gently shaken.
Once done, remove your pan from the oven and top with the sour cream topping mixture. (If you need step-by-step guidance through the sour cream topping part, you need more help than I can give you). Return the pan back to the oven for 10 minutes. Allow to cool completely before removing the springform pan. Top with whatever toppings you enjoy!
Bring this to your next event and you are sure to be a show stopper. People love cheesecake. When you make it from scratch, people love you.
Cheesecake
2013-12-29 09:34:48
Ingredients
1 box graham crackers, crushed
1/2 cup butter, softened
2 Tbsp. sugar
1/2 tsp. cinnamon
3 8 ounce bricks cream cheese, softened
1 cup sugar
4 eggs
1 Tbsp vanilla
1 pint sour cream
2 tsp. sugar
1 tsp vanilla
For graham cracker crust
Combine approximately 2/3 of the box of graham crackers (crushed) with sugar, cinnamon and softened butter. Mix well and press into the bottom of a 9 inch springform pan.
Bake at 350F for 5 minutes.
For filling
Combine cream cheese and 1 cup of sugar and mix well at medium speed. Add eggs, one at a time, and mix well in between each addition. Add vanilla. Pour over the graham cracker crust. Shake gently to even out the filling.
Bake at 350F for 55 minutes (drop to 325F if using dark pan).
For topping
Combine sour cream with 2 teaspoons of sugar and 1 teaspoon of vanilla. Beat mixture on medium speed until well combined. Spread evenly over the top of the cheesecake. Bake for 10 minutes.
Only From Scratch https://www.onlyfromscratch.com/