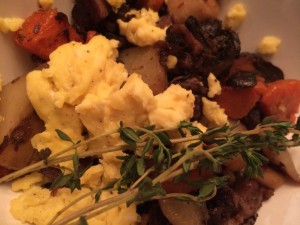 We ended up with almost 2 pounds of left over chuck roast and root vegetables from our Christmas day meal, recipe can be found here. Roasts and vegetables don't often reheat well in the microwave and it dries out in the oven.
I am a big breakfast fan, I mean, I LOVE it! I love all things breakfast, even the hash that comes in a can. You know the one, the one that looks like pinkish dog food with tiny cubes of potatoes in it. It sounds disgusting, but toss it in a screaming hot pan with olive oil and butter and cook it until it has a nice caramelized crust on it and it's the perfect partner for your morning eggs. That said, who knows what this stuff is? I mean, I think (hope) it's meat.
This leftover chuck roast and vegetables is a much better alternative. I know exactly where the meat and vegetables came from and I know how it was cooked. Plus, it's almost as easy as opening up that can.
Don't be afraid to make it your own. Try different sizes of cubes and use your favorite veggies. Once you start making your own hash, you'll never open another can again.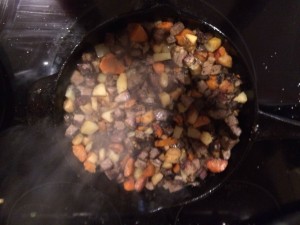 Roast Beef Hash
2013-12-28 10:35:42
Ingredients
1lb leftover roast beef
1/2lb leftover potatoes
1/3lb leftover root vegetables (carrots, parsnips, etc.)
2tbsp butter
2tbsp olive oil
1/2tsp creole seasoning
salt and pepper to taste
Instructions
Heat an iron skillet to medium-high heat
Cut beef, potato and root vegetables into 1/2 inch cubes
Add butter and oil to pan and thoroughly coat the pan
Place beef, potato and root vegetables into the greased pan and spread out
Use a flat spatula to firmly press everything flat
Let it cook for five minutes and then flip and cook for another five minutes
Flip one last time and then add the creole seasoning, salt and pepper
Serve with eggs of your choice, but scrambled, poached or over easy are my favorites.
Only From Scratch https://www.onlyfromscratch.com/