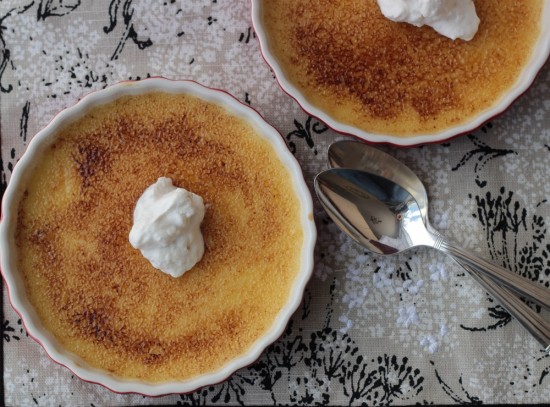 Let me begin this with a warning. Knowing how to make a truly great Crème Brûlée at home is dangerous.
My wife and I came to appreciate a good Crème Brûlée at a local restaurant. It's a common destination for our date nights because it is close and has really good food, but mostly for the Crème Brûlée. Kelly was on call for Valentine's Day this year so we needed stay close to home. I decided that I would make a nice dinner and Crème Brûlée for dessert.
I started a couple weeks before Valentine's Day because we didn't have the right sized ramekins or a torch to toast the sugar on the top. I started by checking out Amazon for a Brûlée set. The few that they had showed mixed ratings so I figured that I would buy the dishes and the torch separately. It ended up costing about double the cost of the kit, but for that I got two more dishes and a better torch. We ended up with these ramekins and this torch. I just needed to pick up a bottle of butane to fill the torch and I was ready to go.
Once I started making the custard part of the recipe, I was surprised how easy it was to make. Just some sugar, eggs vanilla and cream. That's it.
Crème Brûlée
2014-02-15 13:59:47
Ingredients
3 cups whipping cream
7 egg yolks
3/4 cup sugar
1-1/2 tsp vanilla extract
Sugar for sprinkling - I put Sugar in the Raw in the food processor to make it fine enough to use.
Instructions
Preheat oven to 325
In a large bowl, whisk vanilla, egg yolks and sugar together until well blended.
Heat cream until it is steaming and remove from heat, be sure to not cook down the cream, it will affect the texture of the Crème.
Use a ladle to whisk in one ladle full of the hot cream at a time until it is all incorporated. Go slowly or you will cook the eggs.
Place the six ramekins onto a rimmed baking sheet.
Fill the six ramekins equally, should be about 3/4 full.
Fill the baking sheet with water until it reaches half way up the ramekins.
Place baking sheet on the bottom rack of the oven
Bake for 20-25 minutes until the custard is no longer liquid.
Chill for 30 minutes
Sprinkle tops of chilled Crème Brûlée with sugar and use kitchen torch to toast the sugar in a slow circular pattern.
Only From Scratch https://www.onlyfromscratch.com/