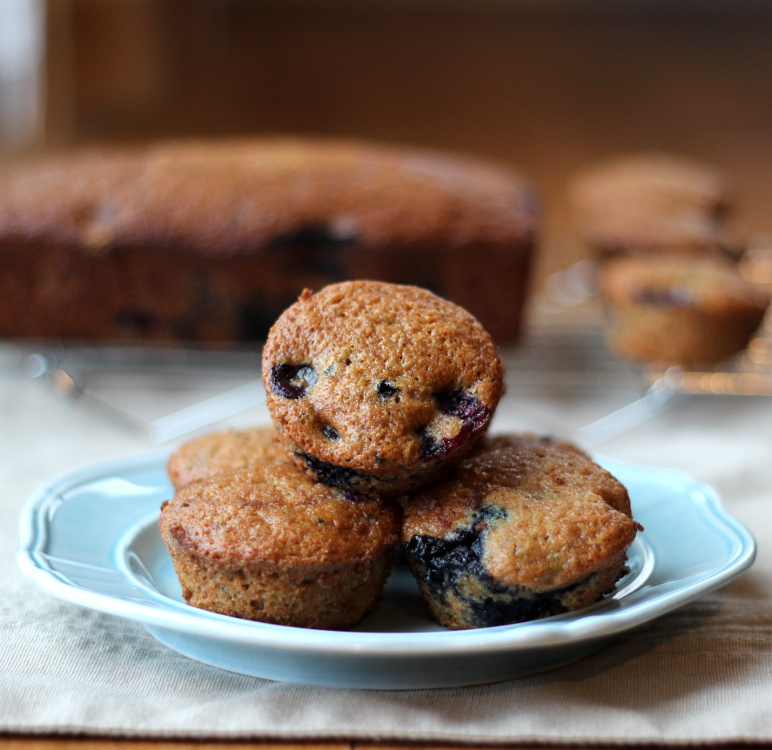 It's been a while since I've posted any recipes to the blog due to a variety of factors, including lack of both time and motivation. You can thank my pager for this blog post. It kindly blasted me out of bed, just after I fell asleep. Now, two hours later, I've thrown in the towel and decided to share today's baking adventure with you. My apologies if the final product doesn't read well, it is 1:30 in the morning. May I present….blueberry apple zucchini bread.
Our squash, cucumber, and zucchini plants have suddenly tripled in size and are now getting ready to overwhelm us with vegetables. The zucchini plants have been the first to produce and we're already having trouble keeping up. Thankfully, my family is a big fan of zucchini bread so, at this time, we are keeping the zucchini population controlled.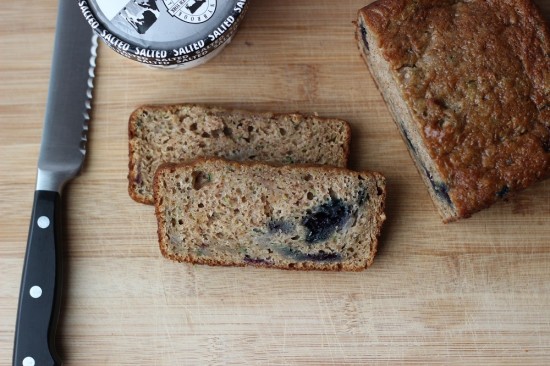 This quick bread packs A LOT of flavor and I owe it all to poor planning. My original recipe (which I have used for several years) calls for one cup of vegetable oil. I made this recipe for a work function last week and came up short on oil. The pantry had several options for substitution, including olive oil, peanut oil, butter, and shortening. These all sounded disgusting. After much consideration, I trudged to the basement and returned with a jar of our homemade applesauce, determined to find out if this healthier option could actually turn out well. The result was a tasty quick bread that was a bit more chewy than the original.
Overrun with zucchini again today, I assembled my items to make another round of bread only to find that I never added vegetable oil to my grocery list. Without a drop of vegetable oil in the house, I went for the full substitution with applesauce and decided to add a couple of tablespoons of fat (for good measure) in the form of plain Greek yogurt. After a nail biting 90 minutes, the bread was baked, cooled and ready to cut. If it was gross we'd be empty handed at our picnic today. A quick sampling of the bread revealed that it was not gross. In fact, it was amazing! So today, our new "go-to" zucchini bread recipe was born!
Pictures will follow soon (Remember it's almost 2 AM. It's a tad bit dark for photography)
Bluberry Apple Zucchini Bread
2014-07-27 01:36:00
Ingredients
3 cups flour
1 teaspoon salt
1 teaspoon baking soda
1 teaspoon baking powder
3 teaspoons cinnamon
3 eggs
1 cup applesauce
2 Tablespoons plain Greek yogurt
2 1/4 cups sugar
3 teaspoons vanilla extract
2 cups shredded zucchini
1 cup blueberries
Instructions
Combine dry ingredients well.
Shred zucchini using a food processor or grater.
Combine the rest of the ingredients well.
Pour into two greased 8 x 4 pans.
Bake at 325F for 40-60 minutes.
Cool in the pan for 20 minutes before transfer to wire rack.
Only From Scratch https://www.onlyfromscratch.com/