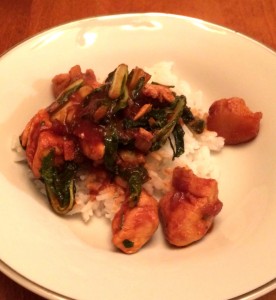 There were two reasons why this recipe made the menu this week. For one, I was sick of a can of water chestnuts staring at me every time that I opened the pantry. And when it's below zero outside, a cooped up New Yorker will do just about anything to remind themselves of summer.
This recipe brings me back to early summer of last year when we received our first CSA baskets of the season. We had never had Chinese cabbage and I had no clue what to do with it. The stir fry was so good that we made it again the following week with bok choy and pork tenderloin medallions!
This meal is quick and easy to prepare. Be sure to start your rice first because, like most stir fry meals, this one moves quickly once you start adding things to the pan. Organization is important here!
Like I said, start your rice first. Then marinade your chicken and use that time to get your vegetables chopped and ready to rock. Once you start tossing things into the wok (if you're fancy) or your pan, dinner will be on the table in about 10 minutes. Starch, protein and vegetables all in one and ready in under 30 minutes. It's almost too good to be true.
Stir Fry Chicken with Bok Choy
2014-01-06 21:47:18
Ingredients
1 1/3 pounds boneless, skinless chicken breasts (about 4), cut into 1-inch pieces
1 tablespoon plus 4 teaspoons soy sauce
3 tablespoons dry sherry
1/4 teaspoon cayenne
2 tablespoons cooking oil
1 onion, chopped
2 cloves garlic, minced
1 teaspoon ground coriander
1 tablespoon wine vinegar
1/2 head Bok Choy (about 1 pound), sliced
3/4 cup drained sliced water chestnuts (from one 8-ounce can)
2 teaspoons tomato paste
1/4 teaspoon dried red-pepper flakes
3 tablespoons water
3 tablespoons chopped cilantro or scallion tops
1/8 teaspoon salt
Instructions
In a medium bowl, combine the chicken with the 1 tablespoon soy sauce, 1 tablespoon of the sherry, and the cayenne. Let marinate for 10 minutes.
In a large frying pan, heat 1 tablespoon of the oil over moderately high heat. Add the chicken and cook, stirring, until almost done, 1 to 2 minutes. Remove.
Add the remaining 1 tablespoon oil to the pan. Add the onion, garlic, and coriander. Cook, stirring, until the onions are golden, about 4 minutes. Add the remaining 2 tablespoons sherry and the vinegar. Cook, stirring, 1 minute longer.
Add the cabbage, water chestnuts, the remaining 4 teaspoons soy sauce, the tomato paste, red-pepper flakes, and water and cook, stirring, for 3 minutes longer. Add the chicken and any accumulated juices, the cilantro, and the salt and cook, stirring, until the chicken is just done, 1 to 2 minutes longer.
Adapted from Food and Wine
Only From Scratch https://www.onlyfromscratch.com/