Now let's get this straight. I do NOT like coffee. I like flavored creamers, in copious amounts. These things are full of calories and chemicals. Reluctantly, I put making my own coffee creamer on my from scratch "to do" list a while ago.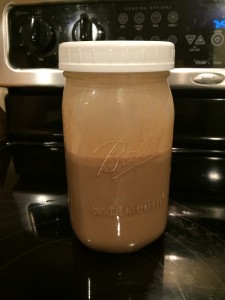 Leaving an entire bottle of my cherished Hershey's Chocolate Caramel out on the counter all day while I was at work accelerated that process. In retrospect, I could have probably left it outside for weeks in the hot summer sun as the ingredients list (aside from water and sugar) does not contain anything that even resembles food.
Drinking black coffee is out of the question, so with ingredients we already had on hand, peppermint mocha coffee creamer was born. The whole process took about 10 minutes and was actually good! And I was also pleasantly surprised to discover that my homemade creamer left my mouth free of the nasty film and coffee stink breath that had plagued me during my years of enjoyment of the store bought stuff.
Need more proof? The cost of my former favorite creamer is $4.19 (regular price) for 32 ounces. The same amount of half & half is $2.49 (regular price). Of course there is additional cost of the small amounts of cocoa powder, sugar, vanilla and peppermint extract that go into each bottle, but I'm not doing that math, so you'll just have to believe that in the long run, you're still coming out ahead with the homemade stuff. And since my own coffee creamer packs more flavor punch, I use less creamer per cup of coffee. Calories saved! Costs cut! Coffee stink breath cured!
What more could you ask for?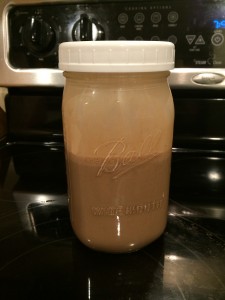 Peppermint Mocha Coffee Creamer Recipe
2013-12-15 20:11:47
Ingredients
2 Cups half and half
4 Tablespoons cocoa powder
2-3 Tablespoons sugar
1 teaspoon peppermint extract
1 teaspoon vanilla extract
Instructions
Combine half and half with cocoa powder and sugar in a medium sauce pan. Heat over medium heat until cocoa and sugar are dissolved.
Remove from heat and add peppermint extract and vanilla. Mix well and transfer to glass jar for storage.
Notes
Shake well before use.
Only From Scratch https://www.onlyfromscratch.com/