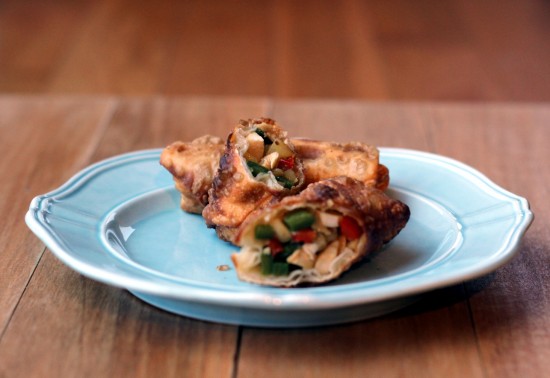 Ever have one of those nights, the ones where you need to get a dinner on the table and the day has gotten away from you so the food shopping didn't get done. Tonight falls into that category. When the natives start getting restless, you start to survey the situation and see what you could assemble from the diverse ingredients you have laying around. Tonight we had laying around, onions, potatoes and peppers from the garden, leftover tandoori chicken and egg roll wrappers that we did not use for our samosa recipe last week. Don't worry, we made our own samosa dough. The samosas were pretty tasty and they became my inspiration for the dish that I was about to throw together.
I started by mincing two cloves of garlic and dicing the onion, potato and peppers fine, about 1/8″ of an inch. The intent was to get them cooked through quickly because everyone was ready to eat. Tossed all of that into a heated skillet with a few tablespoons of olive oil. Add 1/8 tsp pepper flake, 1/4tsp garam masala and salt and pepper to taste. Cook until almost soft and add cooked chicken, 1/4″ cubes. Cook until the chicken is warmed through and wrap into egg roll wrappers. fry in oil until golden brown.
The end result was really good. So good that I added the recipe to the site for future use.
Chicken samosa egg rolls
2014-10-13 18:58:41
Ingredients
1 medium onion
1 red pepper
1 green pepper
2 medium potatoes
2 cloves garlic
2 tbsp. olive oil
1/8 tsp red pepper flake
1/4 tsp garam masala
salt and pepper to taste
egg roll wrappers
Instructions
Mince two cloves of garlic
dice the onion, potato and peppers fine, about 1/8" of an inch.
Put garlic, onion, potato and pepper into a heated skillet with a few tablespoons of olive oil.
Add 1/8 tsp pepper flake, 1/4tsp garam masala and salt and pepper to taste.
Cook until almost soft and add cooked chicken, 1/4" cubes.
Cook until the chicken is warmed through
Follow the direction on the package to wrap the mixture into egg roll wrappers.
Fry in oil until golden brown.
Remove to a paper towel lined plate until ready to eat
Only From Scratch https://www.onlyfromscratch.com/