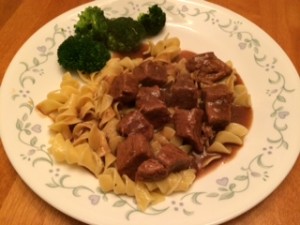 Once upon a time, I was a newlywed, a new mom, and a terrible cook. For me, cooking consisted of one of the following options:
Breading and frying something
Throwing meat into Italian dressing and then pan frying it later
Assembling some sort of boxed meal
While on maternity leave with my oldest daughter, I had some extra time to experiment in the kitchen. As a science nerd, my day job consisted of following the steps of an experiment exactly as written. Deviate from the protocol, and you get poor results. Follow the instructions, and your experiment goes well. So I stood at the kitchen counter with the same mindset as one would have at the lab bench.
With my newly printed recipe in front of me, I set forth to prepare a meal that would cook for almost two hours. I would make beef tips. As any good scientist would do, I carefully followed the recipe. I didn't skip a beat as I poured large amounts of soy sauce into the mixture and then seasoned with precisely the correct amount of salt. I adjusted the heat and let that beauty simmer away for two hours, knowing that nothing could go wrong when you follow the recipe so closely. Finally it was ready, and I proudly dished it up over some sort of starch and served it to my husband and a family friend.
Lips puckered and hands reached for glasses of water as my polite husband and friend attempted to choke down what became affectionately known as "salted meat." It was my knee jerk reaction to give up on salted meat, but my dear husband managed to look past the plate of salt in front of him and proclaimed that there was a nice flavor underlying all of that sodium. Whether he meant it or not, salted meat got another shot in the dinner rotation. This time with much less soy sauce and absolutely no added salt. The result was delicious and 10 years later this meal still makes it to our table.
This meal is a winner with the kids and is easy to prepare. I'm not thrilled about the addition of the gravy packet at the end and have been toying with cornstarch and additional seasoning. Until I get the substitution right, I will leave the recipe to include the brown gravy packet. Although the cook time is long, the prep and clean up are very quick. Just don't forget to check on your simmering dish periodically (I have forgotten about it and lost almost all my liquid once). It can be done in the slow cooker too but the meat tends to dry out. An accidental substitution of pork held up to the crock pot much better than the beef and added an interesting flavor. The nice thing about this recipe is that it's flexible. You can adjust the soy sauce and seasonings to taste, deglaze the pan with white wine to add depth to the flavor, or add mushrooms to add texture.
It's not the fanciest meal on the planet and if you have hypertension you probably shouldn't even look at this dish. But its hearty, flavorful, and good enough to get a second chance and a regular place at our table despite my salty cooking debacle.
Beef Tips
2013-12-18 19:32:23
Ingredients
1-2 pounds stew meat
2 Tbsp olive oil
1 yellow onion, chopped
1 clove garlic, minced
2 cups water
1/4 cup worchestershire sauce
1/8 cup soy sauce
Ground black pepper to taste
1 brown gravy packet
Instructions
Add oil to a large pan and brown meat over medium-high heat.
Reduce heat to medium and add chopped onion. Cooks onions until translucent.
Add garlic and cook for approximately 1 minute.
Add water, soy sauce and worchestershire sauce. Bring mixture to a boil.
Reduce the temperature to low and simmer, covered, for up to 1-2 hours (the meat becomes very tender if you can let it go closer to two hours).
After 1-2 hours, remove lid and increase heat to medium. Add gravy packet and bring the mixture to a boil to thicken the sauce.
Remove from heat and serve over rice or egg noodles.
Only From Scratch https://www.onlyfromscratch.com/