This particular winter has been exceptionally cold, like 'WTF, why is it so cold?', cold. While I don't care for the cold the bright side is that great soups, stews and chowders are the best antidote to cold weather. This winter we have eaten all of our favorites a few times each and have been trying some new recipes to add to our roster. We have a couple misses and a few hits. This one was a homerun.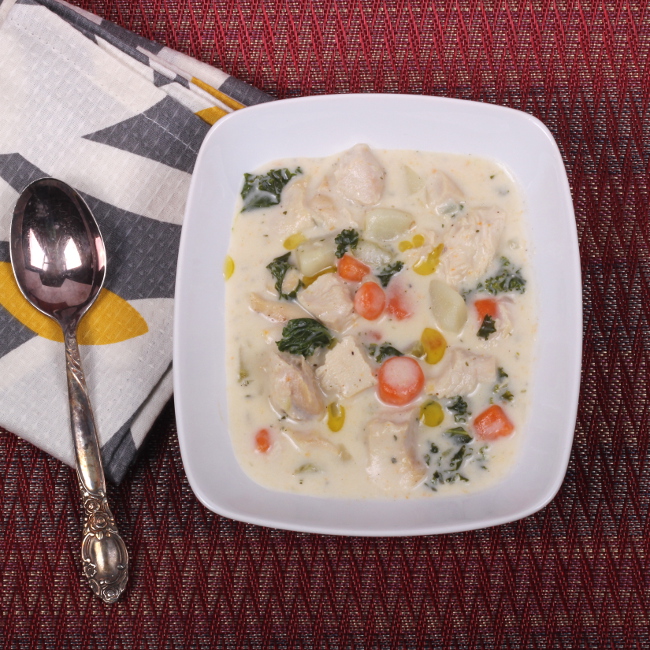 This one covers all the bases, chicken, cream, potatoes and most importantly roasted garlic. Roasted garlic is one of those ingredients that elevates everything it touches. Whether you are just spreading it on some fresh Italian bread or adding it to your chicken chowder, it is guaranteed not to disappoint.
There are a couple of steps to making the chicken and roasted garlic chowder:  first you have to roast the garlic and proceed to make the rest of the chowder while that is roasting.  Other than that,its pretty straightforward.  Just give yourself a little time and will be fine.

Chicken and Roasted Garlic Chowder
Author:
Only From Scratch
Ingredients
4 tablespoons butter
¼ cup all purpose flour
4 cups chicken broth
1½ cups sliced carrots
1½ cups sliced celery
1 cup chopped onion
2 potatoes, diced
1 teaspoon dried parsley
1 cup heavy cream
1 ounce cream cheese
3 cups cooked cubed chicken
3 cups kale
salt and pepper to taste
1 head garlic
1 teaspoon olive oil
salt and pepper to taste
Instructions
Heat the oven to 400 degrees
Cut across the top of a head of garlic to expose the cloves
Sprinkle the olive oil, salt and pepper on the head of garlic
Wrap in foil and cook for 40 minutes in the preheated oven
Melt butter in a large wide bottomed soup pot
Add onion and cook for 1-2 minutes, until softened
Add potatoes, carrots and celery and cook for another two minutes
Sprinkle with flour and allow to cook for 1 minute
Whisk in the chicken broth
Continue cooking until the vegetables are cooked all the way through
Add cream and whisk until smooth
Add cream cheese and stir until melted and incorporated into broth
Squeeze the roasted garlic from the head (be extra careful if it's still hot) into the broth and add the kale and chicken.
Cook for two minutes longer and taste. Add salt and pepper as needed.
Serve hot with crusty bread.