Update – we now have an electric slow cooker in our life.  This is a cross between a crock pot and an electric pressure cooker.  It makes this process even easier.  You will have perfect stock from start to finish in about an hour. 
For us the holidays is a time for everyone to get together.  On Christmas in particular we anchor our meal with a standing rib roast.  A lot of people don't know that there is a difference between a prime rib and a standing rib roast.  The difference is the bones.  A prime rib has the bones removed, the standing rib roast does not.  You can get your standing rib roast two ways, the traditional way where the bones are left alone with another popular option is to have the butcher cut the bones away from the meat and then tie the bones back against the roast.  This is the best of both worlds, you get all of the flavor that the bones provide during the cooking process with the ease of carving the roast with the bones pulled right away.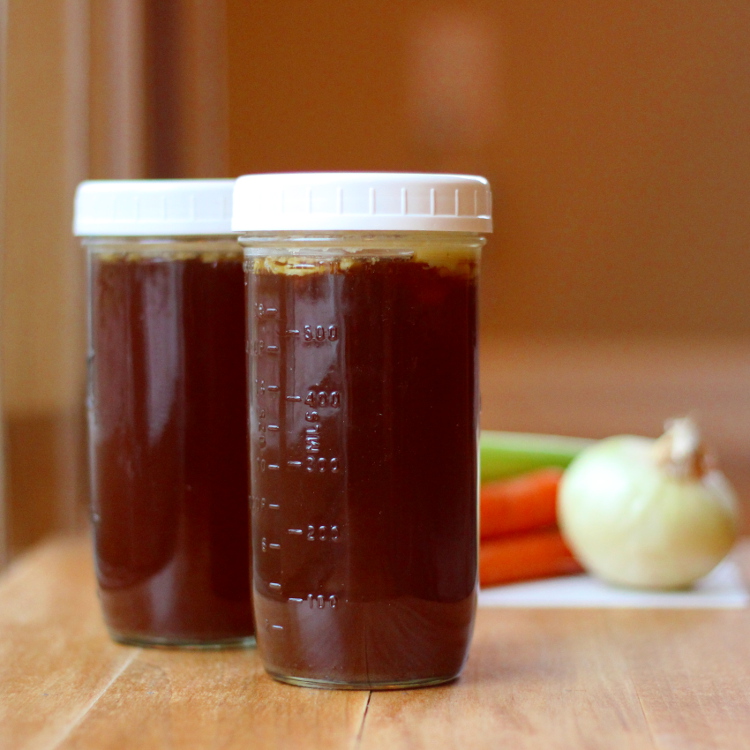 Hold onto those bones.  Trust me.  Those bones become the best beef stock that you can get your hands on.  Sure, you can buy it in a box at the store, but the freshness does not compare.  And it is so easy, just add the bones, carrots and celery and some herbs to a stock pot with some water and cook until this brown colored gold is ready for your favorite recipe, maybe you should try our recipe for Prime Rib beef stew.  I can assure you that they go great together.
Homemade beef stock from scratch
Author:
Only From Scratch
Ingredients
Rack of leftover bones from standing rib roast
1 quartered onion
2 stalks of celery roughly chopped
2 carrots roughly chopped
1 bay leaf
4 sprigs of thyme
10 cups water
Instructions
Toss everything into a stock pot and simmer for 1-2 hours.
Strain the solids out and allow to cool
Use in your favorite recipe or pour into glass canning jars and freeze for later use. Use straight sided jars to prevent cracking.