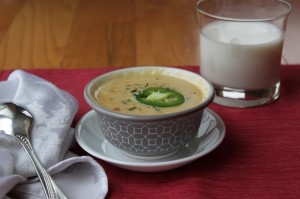 This recipe is my hat tip to Vermont. We live on the eastern side of NY, which puts us in reasonable driving distance to Vermont. We don't get there very often, but whenever we go we have a good time. One of those times we attended one of my friend's weddings at Stratton Mountain Resort. One of the beers on tap was Long Trail Ale. The brewery isn't far from where we were, so it was plentiful and fresh! This was not my first experience with Long Trail, but it helped it land solidly on my favorite beers list. Since I like this beer enough to drink, what better beer to use in my cheddar ale soup?
The primary ingredient in this recipe is the cheese, cheddar cheese. One of Vermont's largest cheese producers is Cabot. I like their cheese a lot better than all of the other national brands and it costs about the same. Cabot also buys a lot of their milk from NY milk producers, I like to have the money I spend to stay in our local economy. Cabot cheese is available in many locations outside of NY. I believe it is carried in quite a few grocery stores. You should check it out, if you haven't already.
Cheddar ale soup
2014-02-02 09:46:44
Ingredients
4 slices thick cut bacon, chopped (can be left out if needed)
1 sweet onion, finely chopped
1 jalapeno, seed and diced
1 rib celery, chopped
2 cloves garlic, minced or grated
1/2 teaspoon dried thyme
2 cups of your favorite pale ale, divided
2 1/4 cups chicken broth
4 tablespoons butter
1/4 cup flour
1 cup heavy cream
16 ounces sharp cheddar cheese, shredded
4 ounces smoked gruyere cheese, shredded
1/2 teaspoon pepper
1/4 teaspoon salt
6 green onions, chopped, for serving
Instructions
Cook bacon in a large soup pot until crispy
Remove bacon and set aside on a paper towel lined plate
Add chopped onion and a pinch of brown sugar(I used about 1/8tsp turbinado sugar) to pot and cook for 10 minutes.
Add beer about two tbsp at a time and stir frequently until you have added 1/2 cup of the beer. The beer should be evaporated and onions caramelized.
Add celery, garlic, jalapeno and thyme and cook over medium heat, stir frequently for about 8 minutes.
Add half of the remaining beer and reduce by half.
Add chicken stock and bring to a simmer.
Melt butter in a separate pan and add flour to create a roux. Cook until slightly browned.
Add roux to soup pot and whisk until well blended. Bring to a simmer for 8-10 minutes until thickened.
Add heavy cream and the grated cheeses and the rest of the beer.
Bring back to a simmer and cook for 15 more minutes.
Stir in half the the reserved bacon and salt and pepper to taste.
Serve hot garnished with chopped green onion and reserved bacon.
Adapted from Half Baked Harvest
Only From Scratch https://www.onlyfromscratch.com/