Although we have been thinking about our goals for the garden this year, we did not really sit down and plan it all out until last weekend. We decided what exactly we were going to plant and based on that we came up with a design for the raised-bed garden that we are going to build. After we decided what we wanted to plant we used this garden planner tool to lay it all out visually. There is a 30-day trial, so you won't need to pay anything for the tool if you don't plan on doing anything too crazy. This is the plan that we ended up with: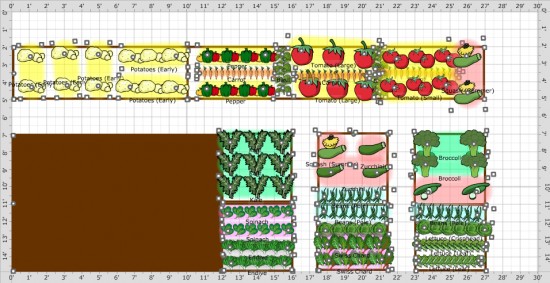 This is the list of what we are planting:
Yukon Gold, Red and Russet potatoes
Bell, Jalapeno and Serrano peppers
Carrots
Basil, and other herbs TBD
Roma and Canning tomatoes
Summer Squash
Zucchini
Kale
Escarole
Three Lettuces
Green beans
Spinach
Broccoli
Swiss chard
The majority of the vegetables we will be starting from seed. We bought heirloom from a somewhat local seed vendor called Hudson Valley Seed Library. We look forward to getting the seeds into the ground and get things growing. This brings us to the garden itself. We had a small 4×8 foot raised bed planter at the end of our shed that we used to grow a few things for the past couple of years. This is the area directly adjacent to the brownish mass on the diagram. We will be fencing the area in to keep the deer from casually munching on our veggies. We have had some loss from them in the past, so we are not going to take any chances. The fence will be made out of 8′ lengths of landscape timbers as the posts, deer fence and decking planks as trim on the top and bottom. The beds will be made of 2×8 pieces of douglas fir framing lumber. I had inquired about rough cut locust from a local to be used for the planters, the cost was about double of that of the douglas fir and we didn't think it would be worth it at this point. To get the project kicked off, this week I rented a tiller and tilled the entire area that we will be placing the raised beds (I don't think it's absolutely necessary, but the grass grows pretty well in that area so we wanted to get rid of it all before starting with the beds). I then dug the holes for the fence posts, 18 holes in total, 18′ deep and 1′ round, all dug by hand. I am astonished that I actually finished them in less than a day. I plan to set the posts in a couple of days once I have a free night. Once the posts are set we are going to build the beds and fill them with soil from a local farm. With the beds in place we can then plant our seeds and then finish off the fencing. We are holding off on the fencing because it will be easier to fill the beds without the fencing in place and the deer will not be a worry until things start to grow. We should have a bit of time then to complete it. We are looking to harvest and preserve any of the produce that we do not use immediately. We intend to get a vacuum sealer and seal and freeze the vegetables that do not can well. Ultimately we would like to preserve a years worth. That may be an ambitious goal, but we are determined to make it work. We canned a fair amount of pickles and tomatoes last summer, so we are fairly comfortable with the process. We are researching the process to can low-acid foods with a pressure canner.