There are two foods that are synonymous with Utica, NY: chicken riggies and greens. I already covered the riggies, this time I am making Utica greens. There are many ways to make greens, the Utica way of making greens adds a prosciutto, hot peppers, bread crumbs, cheese and chicken stock and then goes in the oven to create a crust which adds the perfect texture to balance out the wilted greens.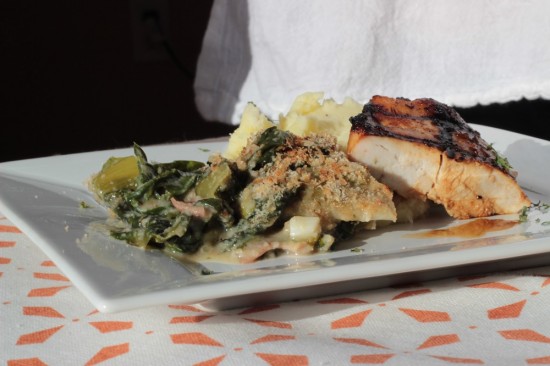 Just like chicken riggies, there are many variations on the recipe. Some use salami or ham in place of the prosciutto. Same thing goes for the peppers, you will see sliced cubanelles, whole peperoncini, cherry or roasted reds. You name a pepper and I bet someone has used it in their greens. To save a couple of steps, I use sliced banana pepper rings. They add a little spice and the pickling juice that they are packed in adds a nice acidity to the mix. Make the recipe a few times and use what you like and adjust to fit your tastes. That is the best thing about a dish like this, you can change a few things and take something that everyone knows and make it your own family favorite.
I don't like my greens really dry, so I add a bit more stock that some. The extra stock mixes with the bread crumbs and cheese and creates this silky sauce that just begs to be soaked up with some delicious Italian bread. This weekend I was feeling particularly ambitious and made up a batch of our Italian bread recipe, I made a small loaf to go with the greens, and sub rolls to be used when we make meatball subs with our leftover turkey pesto meatballs. I had just greens and the Italian bread for lunch on two days this week. It was great!
Utica greens tips and tricks:
This greens can also be used as a great addition to your eggs for breakfast. Add some fresh made home fries and poached eggs and you will have a great start to any day.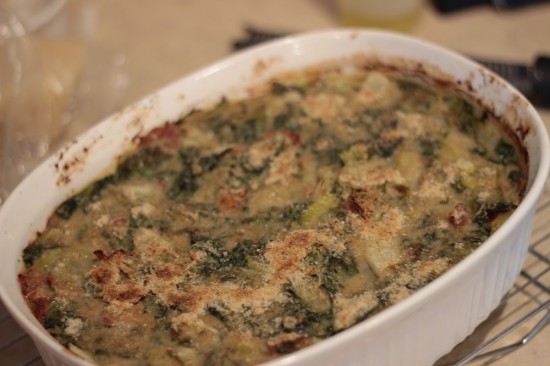 Utica Greens
2014-04-08 20:27:59
Ingredients
4 smallish heads of escarole chopped
2 tbsp butter
2 tbsp olive oil
6-8 cloves of garlic coarsely chopped
1/4-1/2 cup sliced banana pepper rings coarsely chopped
8 slices prosciutto coarsely chopped
1 cup Italian seasoned bread crumbs
1/4-1/2 cup grated Parmesan cheese
1-1/2-2 cups chicken stock
Salt and Pepper to taste
Instructions
Chop and thoroughly clean the four heads of escarole
Bring a large pot of water to a boil, season with salt
Transfer escarole to salted water and cook until wilted and tender - about 6 minutes
Remove greens from water and let drain well in a strainer, set aside
Heat butter and oil in a large skillet on medium low
Add garlic and prosciutto to heated pan and cook for 2-3 minutes - take care to not burn the garlic
Add peppers and cook for one minute
Add escarole, bread crumbs cheese and stock to pan
Mix gently until blended.
Add salt and pepper to taste
Transfer to a casserole dish and place under the broiler until a nice crust forms on top
Only From Scratch https://www.onlyfromscratch.com/