Write the date down. This day will go down in history as the last day that you open up a bag of tortilla chips. Once you make these light and crispy pieces of snack transcendence, there is no going back!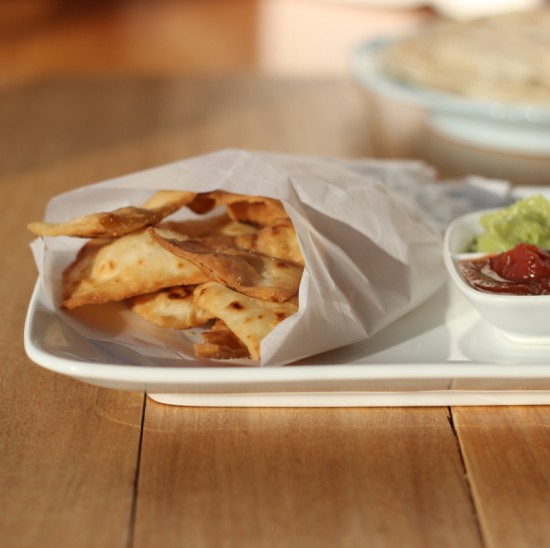 I didn't start out with the intention of making tortilla chips tonight, but I made fried buffalo chicken sandwiches last night and true to form the iron skillet did not get dumped out the oil was just sitting there staring me in the face as I made flour tortillas for our dinner of tacos tonight. Once I was about halfway through the batch of tortillas it dawned on me to try it. I turned on that burner and let the oil get hot enough to fry. I grabbed a couple of the finished tortillas and cut them in half and then each half into 5-6 pieces and put half into the oil and let them fry.
They cooked quickly, maybe 20-30 seconds per side. Once both sides were cooked, I scooped them out and straight to a paper towel lined baking sheet. Add a generous sprinkling of salt and wait a minute to cool and you will be having the best chip of your life. Be sure to wait that minute or you'll hear the sound of a screaming hot chip instantly scorching the moisture in your mouth.
The whole experience reminded me of the King of the Hill episode where Lucky and Bobby go on a mission to have Bobby taste a corn chip right off the line. Granted these are not corn chips, but the comparison rings true.
Homemade flour tortillas
2014-01-07 19:43:16
Ingredients
3 cups all-purpose flour
2 teaspoons baking powder
1 teaspoon salt
4 to 6 tablespoons vegetable shortening
1 1/4 cups warm water (approximate)
Instructions
In a large bowl, blend the flour, baking powder, and salt together.
Cut in shortening with a pastry cutter.
Add the water all at once and mix the dough quickly with a fork or by hand until the dough forms a mass. Work it in the bowl, moving it around the sides to pick up any flour remaining in the bowl.
Knead the dough by folding it in half, pushing it down, and folding again. It should take about a dozen folds to form soft dough that is no longer sticky. If the dough is too sticky, add more flour, one tablespoon at a time.
Cover the dough with a towel or plastic wrap to let it rest for about 5 to 10 minutes.
Warm iron skillet to medium heat
Form 1" balls and the press out into discs. Roll with a rolling pin until about 1/8" thick. Place tortilla into heated skillet. Bubbles will start to form and once the bottom looks done, turn it over and cook the other side. The second side will take less time than the first.
Only From Scratch https://www.onlyfromscratch.com/