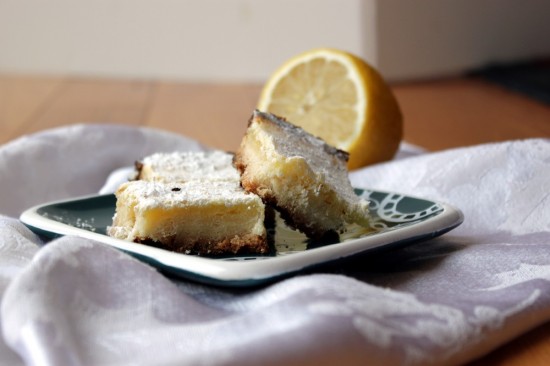 If you are in are need of a sweet treat, don't want to dedicate too much time, and have limited ingredients on hand, this is the recipe for you!
These lemon squares are made in two parts. First the crust, second the filling. The crust couldn't be much easier than this. Take your butter out of the fridge and let it sit on the counter for about 10 to 15 minutes before you start. To reduce frustration, cut it into cubes before you mix it in with the dry ingredients. Resist the urge to soften it in the microwave or to melt it! Use a pastry blender to combine the flour, sugar and butter until it resembles coarse crumbs. Take care to press the crust evenly into the pan and toss it into the oven.
The filling mixes up in minutes and doesn't require a mixer or anything fancy! Roll the lemons on the counter for a bit before you slice it open and squeeze the lemon with the open side up to limit the number of seeds that topple into your mixture. If you have any paper cuts that you didn't know about, this is the time that you will discover them. Ouch!
I used two lemons and these bars have a subtle lemony flavor. Add another if you're really in the mood for lemony goodness. Short on fresh fruit? No problem! You can substitute 2-3 tablespoons of bottled lemon juice for each lemon that you would use. Unfortunately you will miss out on the lemon zest!
Once your crust is golden brown, pour the filling onto the top and be sure that it is evenly spread. Bake it for another 20 minutes or until done. Once it's cooled a bit, sprinkle confectioner's sugar over top. Let them cool completely, cut and enjoy!
Lemon Squares
2014-02-03 21:50:07
Ingredients
1 cup butter, softened
1/2 cup white sugar
2 cups all-purpose flour
4 eggs
1 1/2 cups white sugar
1/4 cup all-purpose flour
2-3 lemons, juiced
1 teaspoon lemon zest
1/4 cup confectioner's sugar
Instructions
Preheat oven to 350 degrees F
Crust
In a medium bowl, mix softened butter, 2 cups flour and 1/2 cup sugar together using a pastry blender until the mixture resembles coarse crumbs.
Press the mixture evenly into the bottom of an ungreased 9x13 inch baking pan.
Bake the crust for 15 or until the crust is golden brown.
Filling
In a medium bowl, whisk together the 1 1/2 cups sugar and 1/4 cup flour until well blended.
Add the eggs and whisk briskly
Gently roll your lemons on the counter top, cut in half and squeeze lemon juice into the bowl. Whisk again and pour over the baked crust.
Bake for 20 minutes and remove from the oven
Sprinkle confectioner's sugar over the top of the lemon bars.
Adapted from Allrecipes.com
Only From Scratch https://www.onlyfromscratch.com/