Today is the actual last day of summer. I know, right? It seems like it was just Memorial Day. But alas, summer is over. Time to start thinking about all of those fall things that we love to do. There are two key activities that my family needs to do during the autumn season: apple picking and a trip to the pumpkin farm to do the corn maze and select the perfect pumpkin for carving. We are still a few weeks away from my favorite varieties of apples being ready for picking and we had a super nice day today, so we loaded up the kids and headed off towards our favorite pumpkin patch with a fantastic corn maze. Mind you, we are a little early in the season for our jack-o-lantern pumpkins, so we save those for another day, but we had a great time in the corn maze and took the hayride out to the pumpkin patch just for experience sake. When we got t0 the patch we conceded that the kids could head into the patch and each pick out a small pumpkin.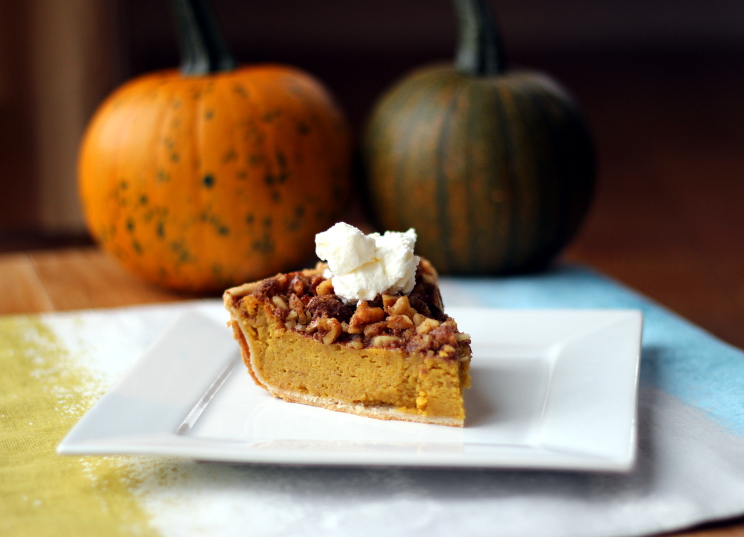 It was a divide and conquer mission. The missus went with the youngest and I headed out with our oldest. She had seen some of the green-looking pumpkins on display and she wanted one of those. We walked down a bit to get into the unmolested part of the patch. I went in about three feet and spotted a pretty cool looking one with mostly green and some orange mixed in for good measure. Me, being the perfectionist that I am kept going in further. I looked down and spotted three little beautifully orange pumpkins together on one vine. Immediately I was drawn to them. You three will become my pie, I thought to myself.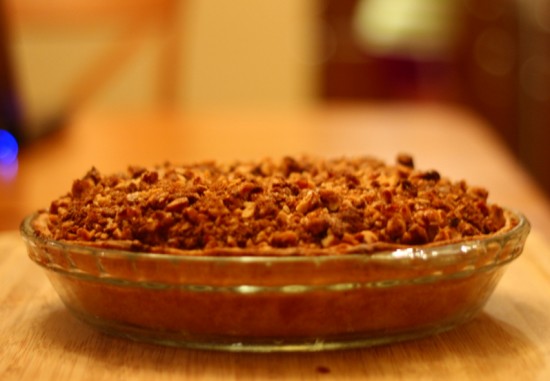 I have never made a pie from vine to pie. I have made my share of pumpkin pies from canned pumpkin. My mother had made butter nut squash in the oven a million times, so I know the basic theory behind the process. I get the pumpkins home and cleaned them up. Next, cut them in half, remove the seeds and that other stringy stuff that hide out in there, brush inside with vegetable oil and toss them on a parchment lined baking sheet for a 45 minute roast. They came out perfectly. Removing the skins was no big deal and into the blender to puree the results into a consistency that all of us canned pumpkin users will recognize. We are ready to make pie.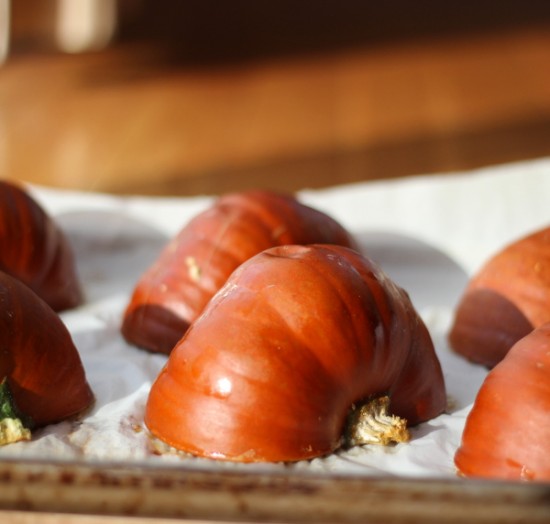 You should know that my wife does not care for the traditional pumpkin pie. I eat it, but I would always go for apple or chocolate instead of pumpkin (who are we kidding, it was in addition to) on Thanksgiving. This does not change the way my better half feels about the wonderfully dense pumpkin pie that the rest of us eat. Early in our marriage she set out to find a pumpkin pie that we could both eat. This recipe is the one that she found. It is lighter that what you are used to, separate the eggs into yolks and white and whip those whites into an almost meringue-like consistency and fold it into a mixture of pumpkin, condensed milk and all of the usual suspect spices. Round that out with a crumb topping and you are setting down a slice of the best pumpkin pie that you have ever eaten. Not lying.
Thanksgiving is coming, are you ready? Make this perfect pumpkin pie for Thanksgiving and your guests will first ask for another piece and then ask for the recipe. You may want to share the recipe or you will be the pumpkin pie guy next thanksgiving. For a great pie crust recipe check out our post for apple pie!
Thanksgiving pumpkin pie
2014-09-21 19:57:59
Filling
15oz fresh pumpkin, roasted and pureed
1 14oz can of sweetened condensed milk
2 egg yolks
1tsp ground cinnamon
1/2tsp ground ginger
1/2tsp ground nutmeg
1/2tsp salt
2 egg whites
1 9" pie shell
Topping
2tbsp all-purpose flour
1/4 cup packed brown sugar
1tsp ground cinnamon
2tbsp cold butter
1c chopped walnuts
Instructions
Preheat oven to 425 degrees f
Mix pumpkin, sweetened condensed milk and egg yolks.
Add cinnamon, ginger, nutmeg and salt and mix well.
Whip egg whites with a mixer until they form soft peaks
Fold whites into pumpkin mixture.
Pour into prepared pie shell.
Bake for 15 minutes in 425 degree oven
While pie is baking, prepare topping
Combine flour, brown sugar, and cinnamon
Cut in butter until it forms a coarse meal texture
Mix in chopped nuts
Once pie has baked for 15 minutes, remove pie from oven and sprinkle with topping and return to oven. Reduce oven to 350 degrees f.
Bake for 40 minutes or until set.
Only From Scratch https://www.onlyfromscratch.com/