This week we spent extra money and bought a large chuck roast from the local butcher to make into crock pot tacos.  Although the tacos were tasty, I wasn't thrilled about eating them for left overs all week long when we were faced with a giant slab of left over meat.  Determined not to let the meat go to waste, I decided to transform that subtle chipotle-flavored beef into a delicious homemade, easy beef tortilla soup recipe that is quick and perfect for any weeknight meal.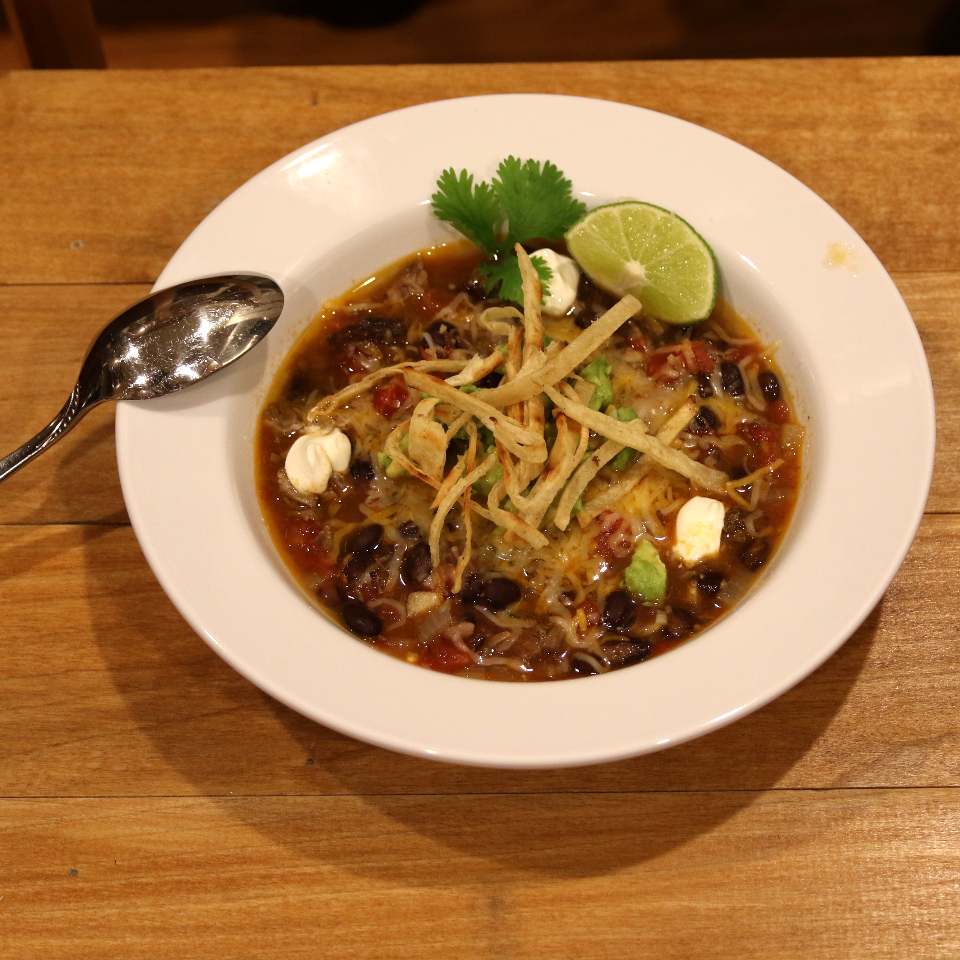 Due to busy schedules, I prepared this meal two days in advance so that we could simply reheat it.  Worried that this new creation wouldn't deliver a satisfying meal, I wasn't exactly looking forward to tonight's dinner.  After carefully assembling each bowl, I sat down and reluctantly took my first bite and was blown away.  It was like eating a plate full of comforting nachos in soup format. Judging by the empty bowls, the family agrees that my beef tortilla soup creation is a winner! 
Beef Tortilla Soup Tips and Tricks
Use left over beef from a pot roast or another slow cooker recipe.  Our crock pot beef taco meat made an excellent base for this soup. 
If you are crunched for time or don't want to bake tortilla strips, Fritos or crushed corn chips can be substituted. 
Add chile powder, cumin or paprika to add heat and adjust the flavors if desired.  Additional jalapeños or other hot peppers could be substituted as well
Beef Tortilla Soup Recipe
This easy beef tortilla soup recipe transforms left over taco meat into a quick meal.
Author:
Only From Scratch
Ingredients
¼ cup olive oil
½ cup chopped onion
2 cloves minced garlic
1 jalapeno pepper, diced
4 cups of chicken broth
1 (14.5 oz) can diced tomatoes, undrained
1 teaspoon Kosher salt (or to taste)
1½ cups cooked chopped beef (try using left over meat from our crock pot beef tacos recipe, which was a chuck roast)
1 can black beans
6 small corn tortillas
1 ripe avocado, diced
Shredded Mexican cheese mis
Fresh cilantro
Lime wedges
Sour cream
Instructions
In a large stock bot, heat oil over medium heat. Add onions and jalapeños, cook until softened. Add garlic and cook for 30 seconds.
Add chicken broth, tomatoes (undrained), beef and salt. Bring soup to a boil and then reduce to low heat, simmer and allow to cook 15 minutes. Season with addition salt, pepper and seasonings to taste.
While your soup simmers cut tortillas into strips. Coat baking sheet with oil and cook in the oven at 375 degrees F until crispy and lightly browned. (approximately 5-10 minutes)
Add beans to soup (drained and rinsed) and allow beans to heat through.
Label soup into bowls and top with cheese, avocado, sour cream and fresh cilantro. Serve with fresh lime slices.