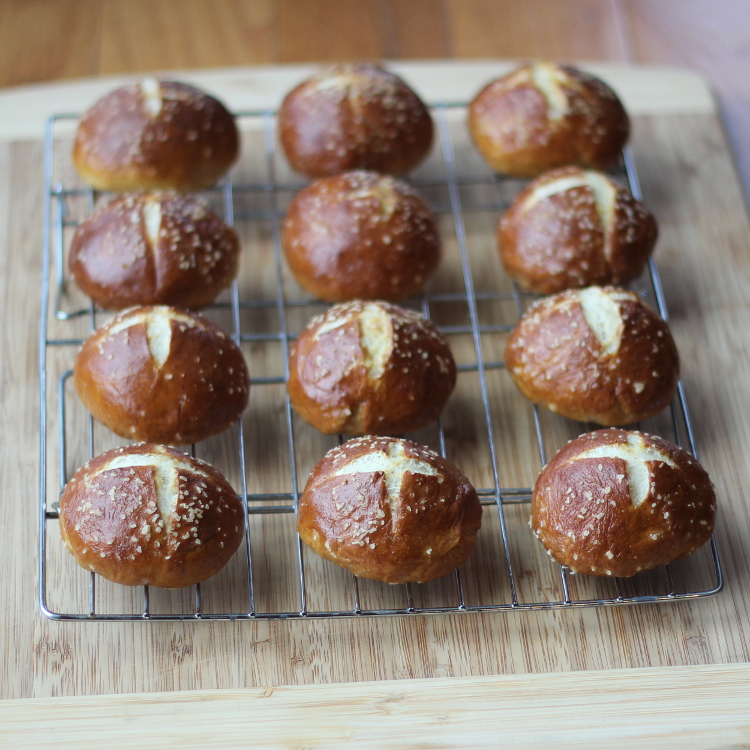 I really must have been been in a carb coma. About two weeks ago I wrote about my pulled buffalo chicken sandwiches served on a pretzel roll. I was going to write up the recipe for the rolls after I woke from my nap. If only I were to actually get that kind of sleep. So, without any further adieu, I present pretzel rolls.
The best part of this dough is that it is versatile. I took the dough and set aside two of the sections that were destined to be rolls and split them and half and rolled them into ropes and then twisted it into a pretzel shape. For me, dipping the salted pretzel into a nice brown mustard is the perfect way, but I took two of them and spread them with butter and then sprinkled them with cinnamon sugar.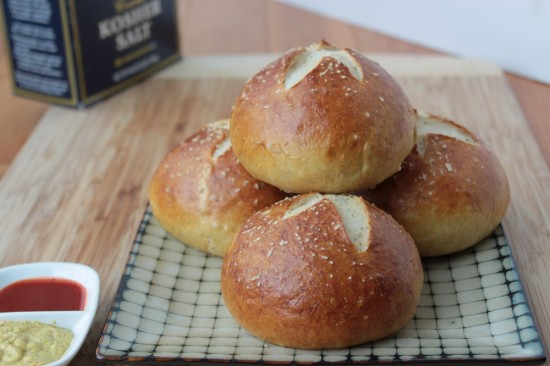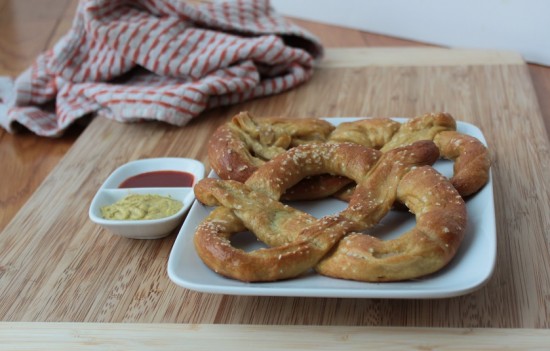 Pretzel rolls
2014-01-20 11:13:37
Serves 8
Why buy a pretzel roll when you can make them better at home!
Ingredients
1 ½ cup warm water
2 1/4 tsp active yeast
2 tsp turbinado sugar (we use sugar in the raw)
3 ½ cups all purpose flour
1 cup white wheat flour
2 tsp salt
4 Tbls butter, melted
¼ cups baking soda
1 egg, lightly beaten for egg wash
Pretzel or kosher salt, for sprinkling
Instructions
Mix warm water, sugar and yeast in a glass measuring cup and keep between 105-110 degrees for 10 minutes.
While the yeast is proofing, mix the flours and salt together in the bowl of a stand mixer
Start mixer with dough hook attachment on a low speed to mix the dry ingredients
Add the water/sugar/yeast mixture and melted butter and mix until well combined, you may need to add a little flour of the dough is too sticky, or water if it is too dry. Start with 1tbsp at a time.
remove the formed dough and form a smooth ball and oil the sides of the mixer bowl. Return the dough ball the bowl.
Allow to rise for one hour, should double in size.
Punch down the dough and form eight equal sized balls
Place the balls with the smooth side up on a line baking sheet
Preheat oven to 425 degrees
Cover with a towel and allow to rise for 30 minutes
Bring water up to a boil in a wide shallow skillet and slowly add baking soda
Reduce to a simmer
Place each roll in simmering water smooth side up and cook for 30 seconds
Turn the rolls and cook for another 30 seconds
Remove rolls to a cooling rack and allow excess water to drain
Place rolls on a parchment lined baking sheet
Use a sharp knife to cut an x into the tops of the rolls
Brush with egg wash and sprinkle with salt
Bake at 425 degrees for 15-20 minutes
Adapted from Dinners Dishes and Dessserts
Only From Scratch http://www.onlyfromscratch.com/